Recent Posts
Categories
Subscribe to RSS

The economy in the USA and Canada is beginning to pull out of the big ole tank, but jobs are still both hard to come by and easy to lose. Which makes it … the BEST time to stop telling your kid to get a degree in accounting, and instead help her/him become an artist!!! I now pause for you to get your knickers out of that painful twist while I clarify. Being a full time artist is very doable. It is also very different from saying "I want to be a Broadway/MovieStar". It's similar to the difference between, "I want to go into innovative technology" and "I want to be Steve Jobs." Those highly visible, highly specific goals are certainly within a realm of possibility, but they come as the result of hard work, initiative, discipline, and commitment to the practice/career itself. Wanting to be an artist as a vocation is not only fabulously feasible, it is also rewarding, practical, and in today's world, surprisingly stable.
Here's the story, morning glory:
Training– multiple entry points, multiple outcomes
Entry Points: one can become a full time artist via college/university training OR via workshops, diligent dedication to/with an artistic institution, mentorship, and project-based training.Outcomes: Training in the arts is also training in observation, expression, commitment, and a sense of excellence. Training in the performing arts adds improvisational problem-solving, the ability to work constructively and efficiently with others, presentational skills, ability to create 'mile-markers' for a project, the ability to work with a hard deadline, delayed gratification, the holding of the team's project above all other things including petty intra-office differences, critical thinking kills, and the ability to give input to others in a positive way. Turns out most businesses LOVE employees with these skills. Tom Vander Well says it like this: 10 Ways Being a Theatre Major Prepared Me forSuccess
Job Security  "What?!?!" Yes, people, yes.You might have a full time job at a museum, theatre, school, university, or college, and that full time job is as secure (or more so) as any other organization/education job. The John Hopkins Business School released a study  in 2012 showing that while other businesses were laying folks off, non-profits actually ADDED jobs… for the past ten years, including 2007-2009. What about education jobs? Well, according the Guardian and Forbes, "The biggest source of employment for graduates was the education sector – where more than a quarter (25.5%) now work." Read more here .
What if you are a free-range artist, ronin, piecing together a patchwork of employment and creativity? Here's the best news: I am never completely out of work. There are leaner times and fuller times, certainly, but even when some things fall through, my other over-lapping projects hold.
This is my life, and I would not trade it for anything, despite the hard, endless work, the constant outreach, and the lack of what I call "getting paid for not working"– you might know it as "sick days, paid holidays, and vacations".
Why would I not trade? What do I get?
All jobs have pluses and minuses; here's my pluses.
Freedom. I love my freedom. I love that if I look carefully and work hard enough, I can find a way to travel for work. I love that if I am happy with a group and their project, I can help it become an annual or regular event, but if I am unhappy with the people or project I am working with, our partnership will have an ending, and that I can still make the project wonderful and the ending graceful. Most of all, I love love love the variety of people, places and types of work. I love that any given day I may be deliriously happy working with fourth graders as they find their own artist-academic selves, recording an audiobook, rehearsing for a stage show, and doing my accounting (in one work day).
Human Relevance. I spend my time seeking connections…with people, histories, text, struggles, joys, sorrows, injustices, learning, discoveries… the list goes on, in every single working minute. I am also a part of fostering groups connection-seeking, in every project that I do. WOW. I make a living (and do a LOT of volunteer work) serving humanity, everyday. Making art. Striving for grace. As Henry Miller said, "Art teaches nothing… but the meaning of life." Please do not tell your child who wants to be an artist that they need to have a real job or have ambition—if serving people, fostering human connection, and creating grace are not good enough for you, well, you might want to wonder why.
Yes, your child will need to think about what to do next. Yes your child will have to have initiative and work hard, and yes, this life is NOT for everyone who imagines that it is.
But neither is being a Business Major.
PS There are also College and University programs for Business Arts Majors!!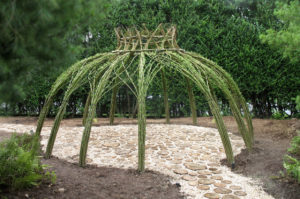 It's winter, and winter wonderlands bring to mind evergreens and warmer climes– for me, at least! So this blog is focused on Living Art—projects to do with your school or community that engage everyone, are stunningly beautiful, functional, and full of science and history exploration opportunities.
What the heck is Living Art?
In a nutshell, structures and sculptures made from alive plants (and some people would include running water). These are not just your king's topiary! I was recently in Texas, and visited the Houston Museum of Natural History  and it's adjacent Japanese Gardens in Hermann
Park . Gracing the grounds are wonderful huts, for lack of a better word, made of saplings. I thought immediately of my colleague Bonnie Gale. I had known about Living Art for sometime before meeting a willow-artist, but it wasn't until I worked with Bonnie Gale of Living Willow  that I really understood its potential as a community arts medium, and as a fabulous part of any school curriculum. She writes, "Living willow structures (such as gazebos, tunnels, outdoor living rooms) have so much potential in the landscape. Structures are made from long, live willow rods that are pushed into the ground and then woven. Willow will self root and self graft so rods can literally be pushed straight into the ground. Living structures are often built in schools and communities with grant monies. In school settings, the design of the structure has been the logo, motto or mascot of the school. Living willow structures transform a bare yard into instant green three dimensional space providing shade, play and interest."
Where Can I See Some, or Get Help?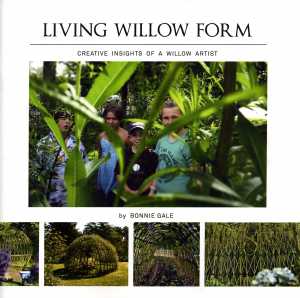 In addition to the amazing Bonnie Gale and Living Willow, there are a number of artists and places that specialize in this kind of work, and parks are adding more all the time. There's Inspiration Green in the UK and the Bluestem Nursery in Canada, and I feel sure that a bit of internet searching would reveal more. Bonnie says, "The students and community members are involved in all stages of the structure from conception, design, layout, ground preparation and building through to on-going maintenance. Living structures are community building catalysts getting neighbors to communicate and work together … I love making large scale installation art. The bigger the better! Due to the recent degree in landscape architecture, I also love large scale design where the structures are incorporated with other materials, such as corten, rock and runnels. Successfully building living art which is rooted and growing in the ground, has a great deal of challenges not found with inert materials. The live material is so special and has profound energy….it clearly is a dynamic partnership."
A Fabulous Example You Can Visit
 The Lady Bird Johnson Wildflower Center, "a public botanical garden dedicated to creating a more sustainable earth through research and education", completely blew me away. Living structures, alive flowing water, towers, bridges, caves and pathways, and wild learning stations made this park a "must see" for me. If you are in Texas, add it to your list of fun places to be.
But no matter where you are, give some thought to finding community partners for this kind of project—long lasting, and far-reaching, Living Art is an incredible way to mix art, science, and public use space!
A little more about Bonnie Gale:
"My life as an artist is totally oriented to spatial containment and definition. I started with Geography at school (60's) and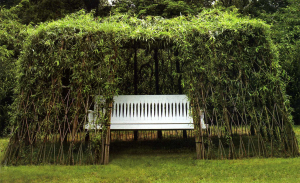 then on to City Planning (70's) to making baskets (80's) to being an installation artist of living structures (2000's). It was all pretty logical but at the time, leaving the job world and becoming a basketmaker felt a complete change".
Bonnie Gale has been a professional traditional willow basketmaker and willow artist for the past 31 years. In 1999, she was awarded an Artist's Fellowship from New York Foundation for the Arts. Her living willow installations have been featured in Vogue, Vogue Living, House and Garden and Fiber Arts magazines. In 2009, her work was featured in the PBS "Cultivating Life" series and in 2010, she appeared on the Martha Stewart Show. She produced her first book: Living Willow Form in 2014. Her main web site is www.bonniegale.com. Her living structures can be viewed on the web site www.livingwillow.info
Schools are now in session, and once again Social Studies teachers are wondering how to get their students to remember the many different peoples that are too often lumped together as 'Asian' or 'African' or 'First Nations/Native American'. English teachers are hunting for a new way to engage students in discussions of The Odyssey or The Iliad or any Greek plays or legends. Theatre teachers are adapting a folk tale……. and everyone's budget has been cut. Masks are a wonderful way to discover differences in cultural perspectives, character nuances, and the ideas of subtext and implication. But what if you are prohibited from ordering art supplies? Well Ta DAA! Enter Manila Folder Masks. Made almost entirely out of Office Supplies!!! Contact me if you want the accompanying how-to in comic-book form.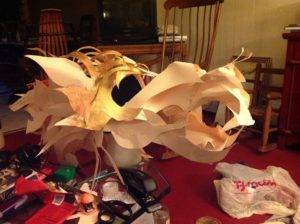 Manila Folder Mask: What is it? 
Believe it or not, Manila Folders have different properties than any other paper product, including card stock and oak tag, which they resemble. They are more pliable, more resilient, and more durable, and can take and hold more shapes than any other paper product. I STRONGLY recommend to group leaders or anyone wanting to lead students on this venture to experiment with this marvelous stuff first, and really listen to what it is telling you. Make curls, make cupped leaves, make springs and foldy sproings or bridges. Cut slits on an angle and bend them open… The picture on the left is a Dragon I am making right now!
What are the pros and cons of using it?
Pros:
*So many teachers cannot order "art supplies". Luckily, these are OFFICE supplies. Plus, it's very cheap!
*You can make them REALLY BIG (I made a 3.5 foot-long dragon's head complete with hinged jaw with folders, staples, and brass paper fasteners)!
*You can do it without any liquids, and the 'waste' materials are all recyclable!
*Materials do not need to be new—used works fine.
*It's stronger and longer-lasting than papier mache.
*Anyone can do it. Children as young as 4 and as young as 84 have had delightful experiences making manila folder masks.
Cons:
*Manila folders are an intriguing material. No matter what you do, it will be really cool. However, to be able to create what you want in any intricate or huge way, you really have to play with the material, listen to it, watch it behave, learn it. I personally think this is a "Pro" not a "Con".
*Repeated sweat will 'eat through' the head band—so you put packing tape on the inside. Which, of course, means that it becomes cleanable. How cool is that?!?!?
TIPS
Stage One: 'Sculpting' the form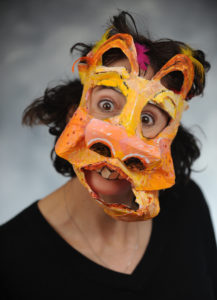 There are several basic models from which to 'grow' a manila-folder mask. I will outline the form that is simplest and lends itself to the most complex. In this case, the 'form' is a supported shape of your head. First, create a band that snugly fits your head. You will need strips from the length and width of your manila folder to make one long enough to go around your head—make it about an inch or 1.5 inches wide. NOTE! When you staple the two pieces together, make sure the 'head' of the staple is on the inside and the 'feet' are on the outside, so the staples do not get caught in your hair or scratch your face. This is a general rule for this project.
Inside, beginning of a mask structure
After you have made the snug band, you need to create at least 2 cross braces over the top. I recommend making them run diagonally rather than perpendicularly; strength comes from mixing diagonals with right angles, and you'll want the right angles for your ears/hair/crown, nose, horns etc. NOTE! It's best NOT to trim the braces. Make them toooo long on purpose so you have an uncut strip to which you may attach other facial structures. Joints are the weakest spots, so we want to keep them to a minimum.
Stage Two: Building the Mask
At this stage, it is important to know what you are aiming for. Are you 6 years old and making a bird with a 4 inch beak? Are you an adult artist making a 2 foot long monster mask? It is important to know because you will now build the support frame and then portions of the outer part of the face. Wait—what? PORTIONS of the face?!?! YEP! Part of makes Manila folder masks so groovy is that you don't need the whole outer part to be solid. The masks look awesome with spaces and they also look awesome with a 'skin' of light fabric, gauze, tissue paper, even toilet paper (tissue and toilet paper should be brushed with modge podge).
To build a support for your bird beak or giant monster face, use long slender strips with cross braces, tabs, folds, or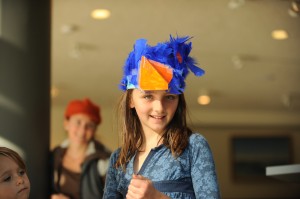 curls as supports. Remember to connect strips at diagonals and right angles for maximum strength, to have the attachments be at different locations on the strips to prevent 'joint weakness', and to make strips as slender as a half-inch to make the structure light. I have included photos here to help show what I mean. In case you are interested, I have created a How-To booklet in a graphic novel format to show some manila folder mask-making techniques, and if you comment on this blog post, I will send it to you for free.
For cheeks, chins, ears, brows and so on, cut out trapezoids, teardrop/leaf shapes, fat rainbows, et cetera, and experiment with bending them to make a box or 'canoe' with 'tabs', pressing them into your palm to make a 'cup' with extra on the bottom for stapling, and so on. Folders LOVE to hold these shapes! Make them slightly larger than you need or with a tab or tail for attaching.
Go ahead and try something! Remember that all masks want to be super 3D. Add horns, hair, squiggles, nostrils….go crazy! One classroom of 4th graders with which I worked struggled with their first 'test drive' mask. They then absolutely fell in love with the stuff, and made masks for their play based on First Nations Tales, then made masks just for themselves! They loved it so much they gave up computer time!!!
Stage Three: Finishing up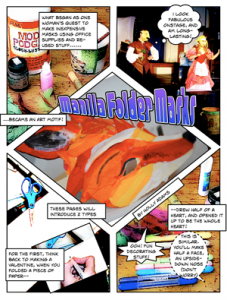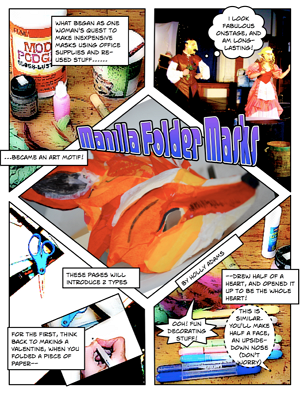 Inside: I would put a light layer of modgepodge (which functions differently than either glue or wallpaper paste) for strength and rigidity. You may need to put some packing tape on the inside to protect the mask from your sweat or to cover up the staple feet that you did on the inside by accident.
Outside: For a crisper hold, use modgepodge. One neat trick is to draw on the manila folder pieces with magic marker (MUCH better than soggy paint!) then put modge podge on (immediately for a more paint-like look, after a moment for a harder line look). Lay colored tissue paper over the markered area. Voila! It looks AWESOME through the tissue paper. To make the colored tissue paper even more translucent, put a light coat of modge podge on the outside of the tissue paper as well, once the underneath coating has dried. I strongly recommend experimenting on scraps first!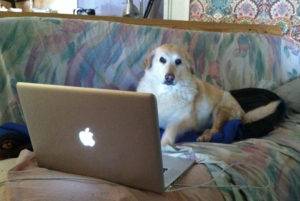 Now that the school year is in full swing and folks are beginning to stress about test scores, the idea of extending the school day, cutting recess, cutting creative activities and so on comes again to the fore. "Play is under pressure right now, as parents and policymakers try to make preschools more like schools. But pretend play is not only important for kids; it's a crucial part of what makes all humans so smart, " Alison Gopnik wrote in "Let the Children Play, It's Good for Them! A leading researcher in the field of cognitive development says when children pretend, they're not just being silly—they're doing science". If you are a regular reader of mine, you know this is crazy making for me—I have written blogs in the past that touch on related subjects ( for example, The Importance of Play). I also believe that play is crucial to a healthy society; it gives us the opportunity to explore ideas and test working relationships, take risks and discover that failure is a step on a path, not an end. Yes, I love using and recommend heavily Michael Rhodes book, "Theatre, Community and Dialogue, the Hope is Vital Training Manual" AND the original community-building book "The New Games Book: play hard, play fair, nobody hurt, by Andrew Fluegelman, Ed. Headlands Press: Garden City, NY: 1976". Moreover, neuropsychologists and others have shown how we build new neurons with focus and practice, including those for empathy ( see "Mirror Neurons"  and "How to Grow the Good in Your Brain" ).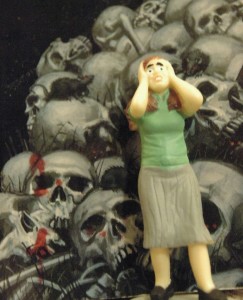 Why the heck are we denying developing humans the opportunities that make them become fully realized?!?
So as not to bore you to death, I have broken the rest of this blog into 3 easy-to-digest sections, and you can scroll to your fave.
I. How is play important to individual development?

II. Why might play be important to the health of society?

III. What are some cool awesome play-like things you could do RIGHT NOW that would also be helpful on a larger scale?
I. Jon Hamilton, in an article titled Scientists Say Child's Play Helps Build A Better Brain, writes ""The experience of play changes the connections of the neurons at the front end of your brain," says Sergio Pellis, a researcher at the University of Lethbridge in Alberta, Canada. "And without play experience, those neurons aren't changed," he says. "It is those changes in the prefrontal cortex during childhood that help wire up the brain's executive control center, which has a critical role in regulating emotions, making plans and solving problems, Pellis says. So play, he adds, is what prepares a young brain for life, love and even schoolwork." There links in the article to more studies and commentary on play, its impact and it's decline, and in fact, NPR's website has a whole section on Education (click here).
II. As an artist, I recognize the crucial role play and playfulness has in a creative process, but more importantly, in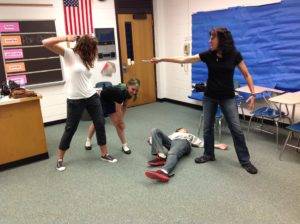 our ability to be less afraid of the unknown and of failure. Play is where we can learn to roll with the punches, take healthy risks, form useful alliances not conscripted by religion, race or like-ability but born out of a mutual desire to accomplish something. A lack of play opportunities compels us to fear 'risk' and 'other', and fosters the idea that we must feel secure at all times and at all costs, cling to what is known as 'safe' rather than risk alliances and explore change. On a large scale, this is how we become controllable; the Taliban outlawed arts, education, and playing, as do many regimes.
In John Poole's article, he writes "Not surprisingly, Panksepp and others think the lack of play is a serious problem. Especially at younger ages. And particularly in school settings. Without play, we know that other species become quick to aggression and have trouble "fitting in." Panksepp thinks the rising rates of ADD and ADHD may in part be due to this problem. In trials where extra playtime was given to kids showing signs of these disorders, there was marked improvement in their behaviors as reported by teachers and parents. "It's not just superfluous," says Panksepp. "It's a very valuable thing for childhood development. And we as a culture have to learn to use it properly and have to make sure our kids get plenty of it."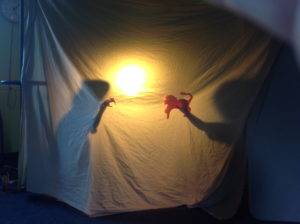 A fabulous website called "Invention at Play" is very much worth visiting to arm yourself! Here's a sample "Make Believe/Visual Thinking: In pretending, we learn to navigate with ease between real and imaginary worlds while learning the differences between them. Using our imaginations encourages original thinking, flexibility, adaptability, empathy, and the ability to generate multiple solutions to a problem. Pretend play helps us learn to think visually and spatially and to both capture and express ideas."
III. Cool games for grown-ups to help make a difference!
In "How Scientists Are Using Games to Unlock the Body's Mysteries! They're not just for kids anymore", Sharon Begley writes about online games that help scientists solve important problems, like Foldit: "This online game asks you to determine the 3-D shape of a protein, knowledge crucial to understanding how it works," (Foldit here) and Eyewire (neuron mapping).
Other fabulous fun that helps is on Zooniverse (I LOVE these!).
I want to close with another Sharon Begley quote, "It's this tinkering approach, this trial and error, that is the basis of play. Beginning when we could hold a rattle, we all learned to solve problems by playing with them."
Let's keep making play an important part of learning to solve problems.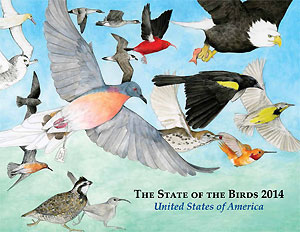 September 1st, 2014, marked the 100th anniversary of the death of Martha, the sole surviving Passenger Pigeon.
Quite a few interesting, powerful, relevant articles have come out, ranging from blog post by Cornell Lab of Ornithology staff, Hugh Powell "Never to Be Repeated: Lessons From the Passenger Pigeon" (it includes link to NY Times editorial by Lab of O Director John Fitzpatrick) to thoughts about "de-extinction" in a Smithsonian article by William Souder, "100 Years After Her Death, Martha, the Last Passenger Pigeon, Still Resonates".
However, for me it wasn't until I saw the paper 'pull-out' from my edition of the Smithsonian Magazine, that I felt a real connection.
It was printed with the pattern to fold the paper into an origami Passenger Pigeon.
Like the origami cranes, gracefully and soulfully keeping us aware of and connected to the victims of the bombing of Hiroshima, this funny little paper art becoming a bird in my clumsy hands immediately made Martha both real and relevant. Art, especially participatory art, illuminates ideas and feelings that are not reached by the neuropaths used when we read text, and spreads a dawn of new understandings like concretized, limiting words never can.
And what might be the next step an organizer, educator, artist might do with an origami Passenger Pigeon? What if the children in your group each made one, then created a movement piece with them exploring flight or migration patterns on a map or in front of an image? What if they became a starting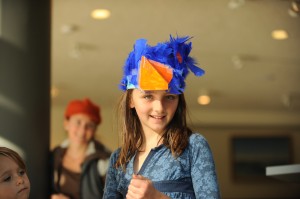 place for Paper Art about other losses, physical, cultural, personal, to be shared at a community center or public space? Here in Ithaca, there was a call for any visual art about Passenger Pigeons, curated and currently hosted at the Cornell Lab of Ornithology. There are soooo many exciting and engaging 'next steps', each easily inspired by a simple folded sheet of a lost bird. Heck, just make some and brainstorm some next steps with your group! You can even become a part of the North American Passenger Pigeon Project with your art or community project! You can download an origami pattern to print for free, or order a box of 50 pre-printed ones for a whopping $12.50 at the Fold the Flock website.
Martha's remembrances include other incredible art pieces and projects. I am including the ones near my home in the Finger Lakes region of New York State; come if you can, but if not, perhaps you will be inspired to do something similar with your own students, group, communities.
Art reaches us and teaches us.