Recent Posts
Categories
Subscribe to RSS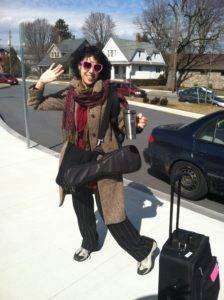 As I write this, I pause to quickly grab a pencil and jot down one more thing on my "Bring" list, so I don't forget when I leave for a foreign country at 8am tomorrow morning. I have more anxiety than I typically do—normally I am happiest and most content moving through space (or preparing to), and love my collaborative-creative projects best of all.
So what, I asked myself, was I worried about this time? I had done quite a bit of social, cultural, and language preparation, spent time with friends and colleagues from this country to help prevent myself from various pitfalls, and although I knew I would have to be on my toes, I also knew I had done what I could, and that lots of listening, grace, good humor and respect, we would muddle through.
Yeeeaaahhh, still worried.
Why? Turns out I am worried about the collaboration process itself. I have met none of the other people (okay, I met my point person's husband in 2000, but hadn't seen/worked with him in maybe 8 years) and I really have no idea what the various stakeholders expectations are, nor how anyone else involved—especially those folks in the hosting nation—perceive collaborative work and relationships.
To quote "Collaboration, from the Wright Brothers to Robots" by Michael Schrage in the March 23 Harvard Business Review,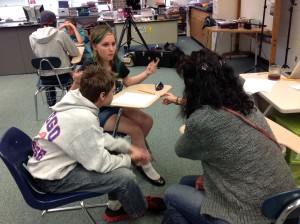 "Successful collaborators don't just work with each other; they work together through a shared space. Shared space — whether physical, virtual or digital — is where collaborators agree to jointly create, manipulate, iterate, capture and critique the representations of the reality they seek to discover or design. This holds true for collaboration around products, processes, services, songs, or the exploration of scientific principles. Shared space is the essential means, medium, and mechanism that makes collaboration possible. No shared space? No real collaboration. ….. What makes a scientific discipline or artistic community or academic institution or R&D group energized and excited about embracing shared spaces to make collaboration simpler, more accessible, more effective, and more satisfying? How does collaboration become as much a value and a behavioral norm as a core competence and pragmatic means to creative ends?"
YES, yes, and yes!
So I reflected on how I could best prepare myself to forward these concepts, knowing virtually nothing and no-one in advance. Here is a fabulous idea that I returned to that I have not seen pop up in a while, along with a couple reflections. I will let you know when I return how it turned out!
Know Which Part of the Collaboration Circle You Fit Best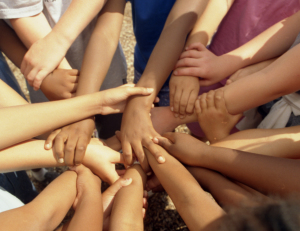 Many years ago (over a decade), I took an amazing workshop at a conference on collaboration, a found an invaluable model for a successful team, one in which everyone felt valued and enjoyed their role. (Side note: I have searched the internet extensively for this man's name, but cannot locate it). In a nutshell, there is a circle of 'ways of being' (my words) on a project. Before I explain them, let me share with you what people often say. "Oh, I can do all of those!" That statement does more disservice to your project than anything else. Why? Because it implies (a) that you do them all equally well, and (b) that they all make you equally HAPPY. Neither is true. There will be one of those that you love the most, one role that gives you pleasure and that you know you do well in any aspect of your life. You might "leak" over to the other ones, but for now, discover which of them is the MOST you. Then build your team with people in the other positions who are the most themselves! It works incredibly well—things get done quickly and happily, and everyone feels needed.
Here are the roles:
If we imagine the circle as a compass, let's start with Visionary in the North position. "What could be?" Visionaries,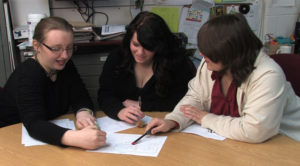 you are the people who have a gazillion amazing new ideas pouring out of you all the time, and sometimes that means you don't finish what you start (unless you have an amazing support staff). You are the ones who said, "What if there was a thing that could hold a bunch of people, and it had wheels and had its own power-source?"
Enter those of us on the "East" part of the circle, the Becomers. "What are the ways that could work in real life, right now, and the steps to get there?" We are problem-solvers through and through, taking great joy in listening to a bunch of different but simultaneous dreams (even seemingly divergent ones), and figuring out how to connect them so they all come true with maximum inclusivity and efficiency. We are the ones who said, "Hmmmm, well there could be axles and a driveshaft, and instead of turning a crank for the gears by hand, it could be a contained explosion whose force moved pistons which move the crank…" You get the picture.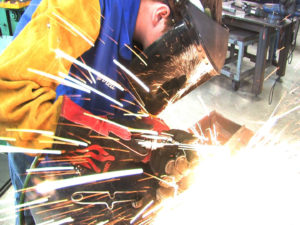 But to bring the dream that became a plan to reality, the group needs those in the "South" position, the Doers. The Doers are the awesome folk who remember all the things to make the plan happen smoothly. They know the person who has space to rent, and make sure the insurance is in place before the others even knew they needed insurance. They make sure the forms you didn't even know you needed were filled out and properly filed yesterday. There are enough pencils for everyone, they remembered to have fans installed, checked the weather report, and got enough tools for all, including some left-handed ones, and oh yeah, everything is color-coded and sensibly named, so it is easier to find by category next time, and they show up with a contact list. I worship these people.
But where does the money come from? Voilá! Coming in at the "West" are the Storytellers. They can't help it. Their enthusiasm, love of detail, and natural warm extra-version mean that never actually 'network', they just share because that's how they are, and before anyone realizes what is happening, other people have joined the dream, opening up both their hearts and their checkbooks. These people are incredible, and as an introvert (and on the polar opposite of the circle), I completely don't understand how these magical beings give people joy by parting them with their resources….but I do know that what they are doing is including folks—in some small way– in the Visionary's dream itself.
This lovely model also helps us to
Speak to the Most Wonderful and Skilled Parts that Live Inside Our Collaborators
and, as my mother would say, to
Put Down the Basket of 'Shoulds'!
Wishing you the best for your next project !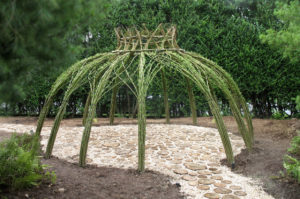 It's winter, and winter wonderlands bring to mind evergreens and warmer climes– for me, at least! So this blog is focused on Living Art—projects to do with your school or community that engage everyone, are stunningly beautiful, functional, and full of science and history exploration opportunities.
What the heck is Living Art?
In a nutshell, structures and sculptures made from alive plants (and some people would include running water). These are not just your king's topiary! I was recently in Texas, and visited the Houston Museum of Natural History  and it's adjacent Japanese Gardens in Hermann
Park . Gracing the grounds are wonderful huts, for lack of a better word, made of saplings. I thought immediately of my colleague Bonnie Gale. I had known about Living Art for sometime before meeting a willow-artist, but it wasn't until I worked with Bonnie Gale of Living Willow  that I really understood its potential as a community arts medium, and as a fabulous part of any school curriculum. She writes, "Living willow structures (such as gazebos, tunnels, outdoor living rooms) have so much potential in the landscape. Structures are made from long, live willow rods that are pushed into the ground and then woven. Willow will self root and self graft so rods can literally be pushed straight into the ground. Living structures are often built in schools and communities with grant monies. In school settings, the design of the structure has been the logo, motto or mascot of the school. Living willow structures transform a bare yard into instant green three dimensional space providing shade, play and interest."
Where Can I See Some, or Get Help?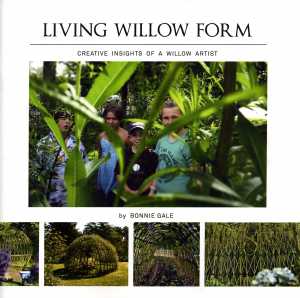 In addition to the amazing Bonnie Gale and Living Willow, there are a number of artists and places that specialize in this kind of work, and parks are adding more all the time. There's Inspiration Green in the UK and the Bluestem Nursery in Canada, and I feel sure that a bit of internet searching would reveal more. Bonnie says, "The students and community members are involved in all stages of the structure from conception, design, layout, ground preparation and building through to on-going maintenance. Living structures are community building catalysts getting neighbors to communicate and work together … I love making large scale installation art. The bigger the better! Due to the recent degree in landscape architecture, I also love large scale design where the structures are incorporated with other materials, such as corten, rock and runnels. Successfully building living art which is rooted and growing in the ground, has a great deal of challenges not found with inert materials. The live material is so special and has profound energy….it clearly is a dynamic partnership."
A Fabulous Example You Can Visit
 The Lady Bird Johnson Wildflower Center, "a public botanical garden dedicated to creating a more sustainable earth through research and education", completely blew me away. Living structures, alive flowing water, towers, bridges, caves and pathways, and wild learning stations made this park a "must see" for me. If you are in Texas, add it to your list of fun places to be.
But no matter where you are, give some thought to finding community partners for this kind of project—long lasting, and far-reaching, Living Art is an incredible way to mix art, science, and public use space!
A little more about Bonnie Gale:
"My life as an artist is totally oriented to spatial containment and definition. I started with Geography at school (60's) and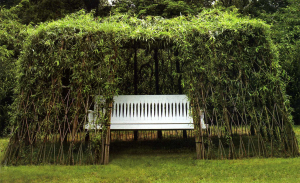 then on to City Planning (70's) to making baskets (80's) to being an installation artist of living structures (2000's). It was all pretty logical but at the time, leaving the job world and becoming a basketmaker felt a complete change".
Bonnie Gale has been a professional traditional willow basketmaker and willow artist for the past 31 years. In 1999, she was awarded an Artist's Fellowship from New York Foundation for the Arts. Her living willow installations have been featured in Vogue, Vogue Living, House and Garden and Fiber Arts magazines. In 2009, her work was featured in the PBS "Cultivating Life" series and in 2010, she appeared on the Martha Stewart Show. She produced her first book: Living Willow Form in 2014. Her main web site is www.bonniegale.com. Her living structures can be viewed on the web site www.livingwillow.info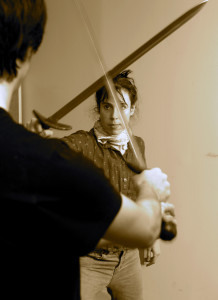 I have spent much of this Autumn working on creating the violence for an all-female production of  "Julius Caesar", which opens in November. This type of project is some of my favorite work, and this production in particular has been inspiring, challenging, and visionary.  The challenges the women have struggled with and slowly– with growing fierceness, glory, and concentrated power– overcome have prompted me to post this blog from 2012 once more. Coaxing adult women into taking up more space, striking with surety, turning with quick and safe confidence, weapon in hand…even having to remind them that this warrior does not fear death…. I want girls to have some practice being bold in safe, fun environments! It used to be popular to be boys or pirates or whatever at Hallowe'en, but I watch as the one day a year we can try a persona on, break free from our assigned role and have a bit of wildness turns into another day for girls to be icons of "thingness" rather than "action". Let this wonderful, wild day of being someone else remind us to give our girls encouragement to swash some buckles! HAPPY HALLOWE'EN!!!
I love pirates. Not, of course, modern real-life pirates, but the pirates of history and fiction with whom I fell in love as a girl. I still remember the thrill I felt when I met my first wild and adventurous pirate, Sinbad the Sailor from 1001 Arabian Nights. I was a shy, bookish, wandering girl of 8 who spent long afternoons alone in the woods to recover from school where having both too much energy and an agile, hungry mind made me ….. well, let's call it "less than popular". My discovery of the swashbuckling, adventurous narrative saved me.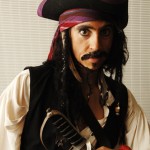 To be clear, my love for the buckling swashers and swashing bucklers was not a love born of wanting to be in a moment with them; I wanted to be in a moment AS them. I wanted adventures! I wanted to wave a sword and save people and ride a fast horse or a fast ship or a slow camel under a different canopy of stars. While it's true that there are more and more girls and women who are allowed to be heroic or adventurous or daring in novels, the stage and the screen still reflect society's general expectation of females, and there is tremendous resistance to both writing such parts for women and casting women in such roles.
Enter Stage Combat. So delicious! So many techniques and practices that borrow from everything from martial arts to mime to circus tricks, and so many wonderfully pointy objects to wield. There is no room in safe fight practice for ego or a sense of victimhood, nor for hesitation/disempowerment or domination. A good teacher/choreographer also designs a fight for surprise. At this point in my career, teaching stage combat to mixed-gender (mixed-race, mixed-ethnicity, mixed-class….) groups of young people is one of the most joyful, effective, and subversive practices I know. Plus it's waaaay fun.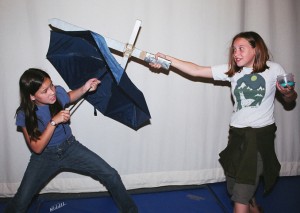 Stage combat is also an entrance to roles otherwise denied chicks. The practice (The skills? The mindset?) has allowed me to play a number of swashbuckling roles (including pirates), to direct swashbuckling productions (like "Pirates of Penzance" for Cornell's Summer Concert series last June), and to find a bravery in my self when I need it.
So, Teaching Artists, Guardians, clamour for the opportunity for your young women to practice saving the day and having adventures. Long live the ladies of the blade!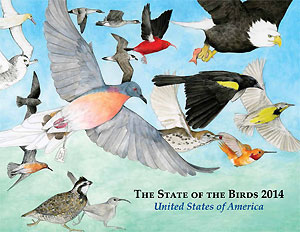 September 1st, 2014, marked the 100th anniversary of the death of Martha, the sole surviving Passenger Pigeon.
Quite a few interesting, powerful, relevant articles have come out, ranging from blog post by Cornell Lab of Ornithology staff, Hugh Powell "Never to Be Repeated: Lessons From the Passenger Pigeon" (it includes link to NY Times editorial by Lab of O Director John Fitzpatrick) to thoughts about "de-extinction" in a Smithsonian article by William Souder, "100 Years After Her Death, Martha, the Last Passenger Pigeon, Still Resonates".
However, for me it wasn't until I saw the paper 'pull-out' from my edition of the Smithsonian Magazine, that I felt a real connection.
It was printed with the pattern to fold the paper into an origami Passenger Pigeon.
Like the origami cranes, gracefully and soulfully keeping us aware of and connected to the victims of the bombing of Hiroshima, this funny little paper art becoming a bird in my clumsy hands immediately made Martha both real and relevant. Art, especially participatory art, illuminates ideas and feelings that are not reached by the neuropaths used when we read text, and spreads a dawn of new understandings like concretized, limiting words never can.
And what might be the next step an organizer, educator, artist might do with an origami Passenger Pigeon? What if the children in your group each made one, then created a movement piece with them exploring flight or migration patterns on a map or in front of an image? What if they became a starting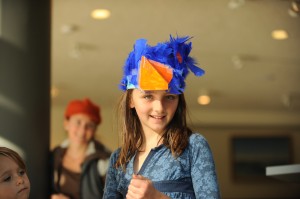 place for Paper Art about other losses, physical, cultural, personal, to be shared at a community center or public space? Here in Ithaca, there was a call for any visual art about Passenger Pigeons, curated and currently hosted at the Cornell Lab of Ornithology. There are soooo many exciting and engaging 'next steps', each easily inspired by a simple folded sheet of a lost bird. Heck, just make some and brainstorm some next steps with your group! You can even become a part of the North American Passenger Pigeon Project with your art or community project! You can download an origami pattern to print for free, or order a box of 50 pre-printed ones for a whopping $12.50 at the Fold the Flock website.
Martha's remembrances include other incredible art pieces and projects. I am including the ones near my home in the Finger Lakes region of New York State; come if you can, but if not, perhaps you will be inspired to do something similar with your own students, group, communities.
Art reaches us and teaches us.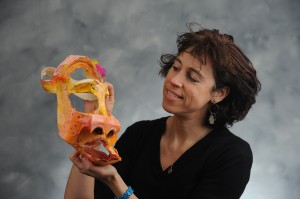 Before launching into this week's blogpost, I want to encourage you to support rabble.ca. If you are reading this post on Shearwater Productions, please take a minute to go to the rabble.ca website, read/listen/explore, and become a supporter of this amazing grassroots organization.  If you are reading this on rabble, take a moment to read something else here and become a supporter!
And now, the blog.
I have given a bunch of mask-making workshops recently, with the adult cast of a show, for toddlers, in school settings, with tweens who have disabilities, and as part of a physical theatre performance at a museum. Each time, the group members have been surprised by the 'newness' of it, then cautious and worried about 'getting it right' as they begin, then delighted and enthusiastic as the masks/characters come into being in their hands. Too often, I think, such exploration of an alien landscape is relegated to an art class when it's power and wonder would blossom in sooo many other circumstances. I hope this article encourages you to take on a mask-making moment with your community, classroom, eldercare folks, children, women's group…… all of it!
I have made masks out of many materials and using a variety of techniques, from traditional (wood, leather, fabric, papier mache, feathers, etc) to 20th century (latex, neoprine/acetate) to my current favorites that others are now also choosing:
medical plastic (aquaplast) and believe it or not, manila folders. The Fox and the goofy pink/orange mask are examples of manila-folder masks, and I have made masks of horses and dragons that are almost three feet in length, and still light and strong. I am mad-CRAZY in love with this material!
I am deeply committed to manila-folder mask-making and spreading the love and use of this amazing material, because
it is so low cost (used folders are fine, and new ones can be had very very cheaply) that even impoverished schools and arts programs can use them
there is no need for water, so no cost there, and can be used in drought/water rationed areas
materials and by-products are all non-toxic, recyclable and mostly compostable
sooooooo easy to clean up
making masks like this involves creative problem-solving, geometric/architectural thinking, and artistic process!
This begs the question, why mask-making workshops? Why masks at all?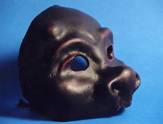 Balinese people say that a good mask has 'taksu', it is a 'spirit house'. I think that's why people are drawn to masks—they seem to have a life of their own, their own passions, movements, intents, personalities. The better the mask, the more intensely we are excited, nervous, frightened, intrigued by them and by the idea of wearing them, performing them.
After all, why do people wear masks? To conceal identity…but that concealing is also a revealing, a taking on of a specific and 'honed-in' characteristics and implications. For example, the Lone Ranger and Zorro both wore simple black masks. Simple black masks, not red sequined masks with feathers or scuba masks or Scooby Doo ones. Simplicity of action and intent is part of what is implied by the mask, and the color and lack of distinguishing features implies something perhaps in the shadows. If you look at pictures of these two iconic masks, they might invoke a feeling of "strong" or "direct" as well.
Why else?
To play a specific, sharply defined character or one markedly different from oneself (as in Hallowe'en masks and Commedia dell 'Arte masks); to play a part largely enough to be seen from farther away; to become a character beyond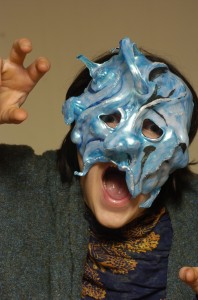 human experience—gods, animals, trees, legendary creatures, even personified ideas. A mask also frees the self by demanding a higher level of commitment and releasing of self than other kinds of performing; the character of the mask is not only more sharply defined, but also more powerful, as the intents and emotions are amplified. Who the performer is becomes irrelevant—men, women, children of any ethnicity, language, and physical ability can become the character. It's sort of the opposite of being a movie star, because the character has more life/importance than the performer, and different people can play the same part. How awesome is that? (Especially if the piece is political and the actor is arrested!)
There are more reasons, of course, but these are the main ones, and the ones that drew me to masked performing while growing up. I was deeply, almost pathologically shy as a child, constantly afraid of taking the wrong action, saying the wrong thing. Becoming an actor helped enormously, but exhilarating freedom came from discovering, 'listening to', and embodying a mask's clear demands.
The process of making masks can be:
therapeutic
a means to connect more deeply to a cultural idea or animal legend (especially in an Elementary School Social studies or Language Arts curriculum)
a successful modality of expression for folks with language or writing challenges
WAY FUN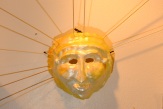 The Arts and Arts Education are for everyone. I hope the spirits of these masks intrigue you enough to suggest a mask performance at a local school or a mask-making project as part of a social-studies unit or elder-care facility, or for yourself to take a secret afternoon and call forth a creature from your dreams, bringing it to life with the materials in your hands. And let me know if you need pointers; I have written a few "How-to" mask-making blogs, and I am happy to share!