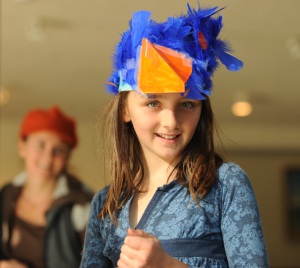 Arts Education: Workshops, Master Classes, and Artist Residencies designed to develop the actor or the performing ensemble, teach new techniques and practices, or prepare for a specific performance.
Shearwater's Teaching Artists all have extensive performance experience with a Physical Theatre specialty, as well as training and a minimum of 10 years experience as a Teaching Artist. Workshops are designed to be 90 minutes long, although they are easily adapted to a 42 minute class time or 3 hour master class. Artist residencies grow out of these initial workshop concepts and are tailored to meet specific program needs. We have grouped our workshops into four categories, as follows:
Our lead Teaching Artist is Shearwater's Artistic Director, Holly Adams. Holly has worked as a Teaching Artist with k-12, performance arts schools, universities, and various arts and cultural organizations for over 20 years. She is a graduate of the Dell 'Arte School of Physical Theater, holds a Masters degree in Theatre, Education, and Social Change and is the 2009-2010 recipient of the ATA's Teaching Artist of the Year/Excellence in Service to the Field Award. http://www.teachingartists.com/adminaward10.htm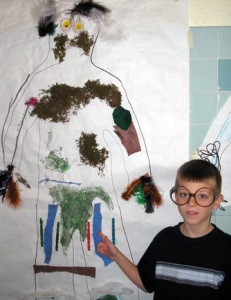 "Thank you so much for the education and experiences you provided my students. They learned so much and had a wonderful time doing so. Their love of stage combat and enthusiasm for making it look real is very moving. They are willing to spend countless hours perfecting the craft. . . . You will always hold a special place in their heart!"  – Terri Martyn, Drama Department, Arlington Middle School
"I LOVE when Holly Adams comes to visit my theater classes! Her unique mixture of historical knowledge and infectious energy make for sessions that are pure fun and very informative. If you're looking for a delightful workshop that addresses most of the NY State Theater Standards, Holly's a perfect 10!"  – Laura Rebecca, Garden City High School Theater Dept.
Physical Theatre
The broadest genre of workshops, from a physical approach to acting to various physical theatre genres.
The Body Electric: using physical theatre techniques to breathe new life into performance
What goes with the magical "if?" This experiential workshop is designed to give theatre teachers new tools and exercises to draw out and hone the performances of students. You will amaze yourself as you explore the uses of breath, energy and movement qualities, focus, and gesture. Fun, revelatory, and useful for any discipline!
Dramatic Improvisation: the power of eyes, breath, and focus
Comic improv is great, but serious/dramatic improv is searing, intense, joyful and terrifying. We will explore this darker side of improv with structures that can stand alone or be the beginnings of an original work. A great workshop to bring the economy, honesty, and grace of 'breath and contact' back into student work in general.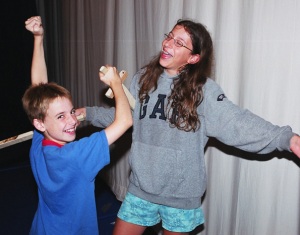 Melodrama Lives!: Heroes, villains and victims.
Heroes, villains and victims. . . good and evil. . . and an awakening social responsibility . . . these were the undercurrents of the most popular form of English and American theatre of Victorian times. In this workshop we will meet the characters and then be introduced to the physical performance elements of Melodrama. We conclude by exploring scenes from "Above the Clouds" and "Dracula".
Dance Theatre: Character and Narrative
Movements, like music, have characterizations that can define a character and tell a story. In this workshop, we unpack some dancetheatre techniques and build a short performance.
Dance Theatre: Contact Improvisation
Part dance, part theatre, and all powerful performance, Contact Improvisation builds authentic connections through trust, awareness, and weight-sharing.
Commedia dell'Arte: Performing techniques for the actor's toolbox
Explores the physicality of focus, of characters' drives/hungers and of comedy. Important work as preparation, not only for traditional commedia dell' arte, but also for other masked performances as well as unmasked commedia style or clown-like characters.
Introduction to Commedia dell'Arte:Who's Who and What's What
This workshop introduces traditional archetypal commedia dell'arte characters. Participants are given brief historical context to commedia's origins and explore the physical and verbal repertoire of the characters. Participants then develop character-driven structured improvisational scenes based on classic commedia situations.

Clowning
We can tailor workshops to focus on poignancy, slapstick, routines, and other clown practices.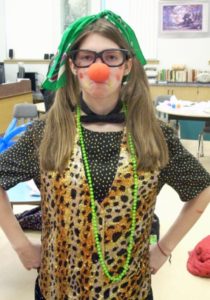 Shakespeare's Clowns: servants, fools and touchstones
All clowns are thought to be the touchstone of society. This class is an exploration of the verbal and physical antics of Shakespeare's clowns, as well as the purpose of the clown scenes in a play. It can be specific to a production, comparative analysis of two or more plays or an intro to Shakespeare using several scenes from one play.
The Gentle Art of Clowning- finding your own clown
This is not a how-to course to be a birthday clown but an exploration that focuses on the comic timing, honesty, poignancy, slapstick and joy necessary for the successful comic actor or anyone looking to find their own clown. Participants will develop clown characters and practice creating clown moments with each other. These "clown moments" are not always funny, but emphasize connection to each other and to the narrative.
Red Nose and "real text'
In this workshop, we use red noses and Red Nose techniques to bring cleaner focus and richer, subtler choices to performing a script. Is also a terrific professional development workshop for theatre teachers.

Mask and Performance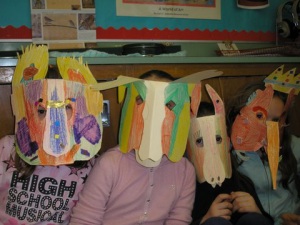 We offer workshops in mask making and mask performing. An exciting way to appeal to everyone in your group! Longer residencies can include performing a folktale in mask.
Mask Making with Manilla Folders
Sounds crazy, right? But these architectural wonders are light, beautiful, cheap, fun, and don't take forever to dry, like paper mache. They do not require a studio nor elaborate heating or water access, and the 'debris' is non-toxic and recyclable. They are inexpensive, and with practice, can become elaborate master works of art. !We will start with a quick fun mask-making exercise to learn the properties of the materials and let go of imposing our own will on the mask, learning instead to look and listen to 'what it wants'. This process of connecting to the 'spirit of the mask' is common to all mask-making practices.
About Face: The Art of Maskmaking
Mask making workshops can focus on the use of "found materials", papier mache, or aquaplast.
Maskmaking has deep histories across the world and is still practiced many places today. This workshop focuses on designing performance masks, drawing on the traditions of Celtic, Balinese, N. American, Asian and African works. With these inspirational models, participants can create their own masks or produce a mask for a specific play. Also available as a puppet workshop.
Performing the Mask: The discovery of Taksu
The Balinese say that masks are spirit houses, and that the level of attention and respect given the creation and performance of the mask will make the "house" more inviting to the spirit. This workshop focuses on performing the mask to bring it to life. Can be geared for beginners, but most effective with more advanced students.

Stage Combat
In addition to useful techniques and heightened body awareness, stage combat training compels students to pay hyper attention to their scene partner and their surroundings. Safety is a priority! Holly Adams is our sole stage combat teaching artist. Her résumé includes productions of My Favorite Year, Romeo and Juliet, As You Like It, Moon Over Buffalo, Oklahoma!, Les Miserables, and the movie Waiting On Alphie. She also stars in an action film serial, to be released on the web in 2012.
A Touch I Do Confess: choreographing interesting stage combat without losing students, audience attention, or your mind
(Can be tailored to Stage Combat Training and Choreography for your production)
This workshop not only introduces the basics of hand-to-hand, weaponry, and choreography, but also clarifies what makes something safe and how to communicate that.
Participatory and fun—feel free to bring props and/or "alternative weapons" (umbrellas, pillows, canes, et cetera), although props are not required.
When Push Comes to Shove: stage combat for youth
In this safety-driven class, students learn to glorify technique rather than violence. Students will begin with learning the basics of control: tucks, checks, and timing that are the ground rules for any safe and exciting stage fight. They will then learn hand-to-hand, basic weaponry (staff, long and short sword, saber) and simple rolls and tricks (tumbles, lifts, falls, throws). Students will also create their own sequences!
The Accident Prone Butler
Similar to "When Push Comes to Shove", but with an emphasis on comedic combat—the 'Inspecter Clouseau' version, as it were.