Telling Our Tales, from Page to Stage | Populist Theatre: stories of a community | Connecting People and Ideas/Sister Cities | Clown Therapy |  Rehearsing for Life! Improv and Scenework for Personal and Social Growth
Shearwater's Arts in Community projects connect Teaching Artists with community organizations to develop art practices and performances that empower, inquire, illuminate and bring hope.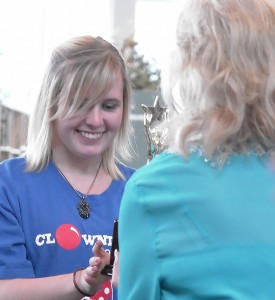 To create an Arts in Community project, Shearwater's Artists and Teaching Artists begin with listening to client communities and community organization members. Together we design a project that brings out the voices of that community, whether it's a single-day "Page to Stage" program, a month-long "Populist Theatre" production, or a long-term "Clown Therapy" or "Sister Cities" project.
In addition to the below, we also offer Interactive Socio-drama programming and Arts-based Bias Intervention training.
Contact us for information about program costs.

Telling Our Tales, from Page to Stage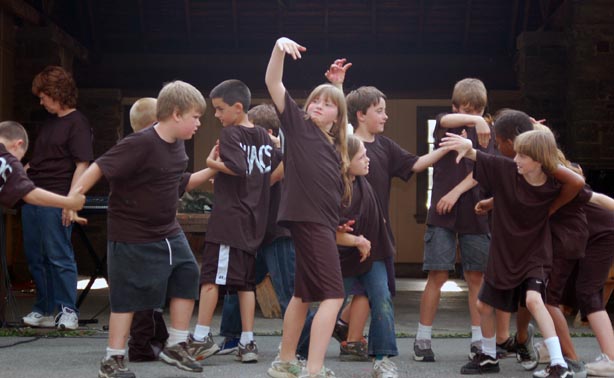 Come one, come all, writers and performers wherever you are, come join in the creation of a brand new performance piece by….YOU!
In this full-day workshop, we will begin with forming our ensemble and identifying common important themes, and end with the performance of our group-created original work! Along the way we will explore archetypal and universal themes in world tales, move through a series of performance and text-creation exercises, and weave together stories from our own lives and family histories. Both fun and profound, our process builds skills that will support the participant beyond this moment. We round out our day with an exhilarating, 'by the seat of our pants' performance of our new work!
Rehearsing for Life! Improv and Scenework for Personal and Social Growth and Empowerment
Shearwater Productions is pleased to offer workshops and private acting coaching sessions to empower our clients with effective tools for engagement, a heightened awareness of social cues (both 'reading' a social situation and 'unpacking' what our own choices are communicating), and practice with text/dialogue. Theatre is Life, as they say, and we can have fun while we delve deeper into the nuances of interaction, intention, and impact.
In addition to developing ways to navigate the choppy waters of daily life, these workshops support the clients ability to realize, understand, and repair or redirect  interactions that are awkward, disempowering (for self or other) or even confrontational. 
In private sessions, we will use video to record and analyze non-verbal cues and choices the client makes, and employ visual and auditory media of social situations and interactions to better understand how feelings, status, social relationships, intention, outcome, and agreement/disagreement are negotiated on a non-verbal level. 
Specific curriculae are designed for different age groups, from pre-teens through to adults, and tailored to meet the specific needs of the client(s).
Private sessions are one hour in duration; group workshops are 1-1.5 hours.  Please contact us for pricing information.
Populist Theatre: stories of a community
In this project, Shearwater Teaching Artists work with community members to create an original performance piece or play that tells the stories of the community's peoples. Community stakeholders guide the themes and stylistic choices, which can include enormous puppets, movement, song, poetry, and many other forms of performed narrative. The project can include as few as 8 participants, or as many as 80. We have done many of these programs, including some in urban neighborhoods (with performances at locations around the city), one with a group of homeless teens, and several with summer work groups of teens from divergent backgrounds.

Connecting People and Ideas/Sister Cities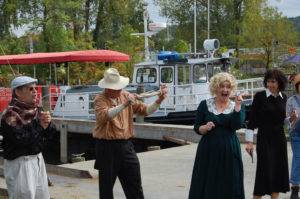 In this amazing and ambitious project, Shearwater Artists and Teaching Artists facilitate the creation of a performance or multi-media performance art piece by sister cities that are separated by many miles or even national boundaries. Often the two groups are schools or other similar community groups that identify a common concern and a common hope around which the project evolves. One such project was called "What is sustainability?" and involved children from a small town in upstate New York and children form a small rural school outside of San Jose, Costa Rica.

Clown Therapy in Hospitals and Nursing Homes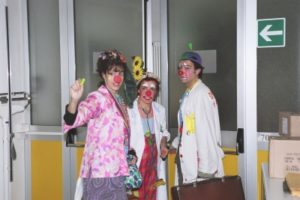 In 2001, Holly Adams received a Civic Fellowship from Cornell University to research "clown therapy" programs and create one for the Southern Tier region of central NYS. She spent over two years working with various people and projects (including Patch Adams and Italy's Ridere per Vivere) looking at beliefs, practices and systems before developing the Ray of Sunshine clown therapy and training program with Karen Stanley, which served three New York counties for over four years. Since then, she has acted as consultant and workshop leader for speech therapy students, nursing home staff, and the Clowning Connections program in the Summerland/Penticton region of British Columbia, Canada. Clown Therapy concepts can be presented as a one-time workshop with practical application, a longer term development and training program, or a travelogue experience, full of images anecdotes, and tastes of lives on the other side of the planet.
"The Ray of Sunshine Project work that I did was unforgettable; I grew as a person, a clown, and a social being. I became more comfortable with myself again, felt that I had more purpose in my life, and got in touch with some of the things that far too many adults have lost sight of, but which can always be relearned, and regained". – Devin Bokaer, performer and social worker
Clowning with high school students article in Penticton Western News
http://shearwaterproductions.com/Clowning_in_high_schools_article.pdf
Holly Adams' work overseas
http://www.TeachingTraveling.com/2011/01/13/holly-a-traveling-player-teaching-clowning-in-afghanistan/
Watch the film Clowns in Kabul, the documentary film
http://www.filestube.com/17e50ddd34e3792803ea,g/Clown-in-Kabul-ByR.html