Voice Talent |  Stage and Screen  | What's in holly's head today
Voice Talent
Fiction Demo
Animation Demo

Commercial Demo

Hear more of Holly's demos on her SoundCloud page.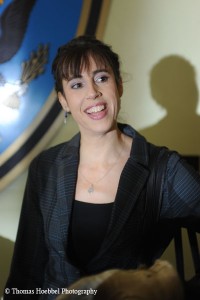 "When I bring voice to a book, I try to honor author, characters, and listener, ever mindful of the intimacy of these relationships. When I am voicing a game or animation, it's still about the story, the characters, and the intense or deliciously funny action, right? That's my job–be there, tell the truth." – Holly Adams
Holly Adams draws on voice and physical theatre training to breathe life into every text. Her attention to texture and the energy/movement qualities of sound make her voice work personal and dynamic. Holly records audiobooks, commercials, video narrations, and animation/game characters at client studios or in her professional home studio, which is equipped with Source Connect for live recording sessions.
See Holly's books at:
Holly's Latest Book
Holly sez: Author Dawn Chapman has created a whole world that fans love. Honored to be a part of it!
BLURB:  "After a horrific vision, the King's seer forces Katya and Sheve apart…all in the name of their future happiness. For in their happiness lies the future of the Aonise species….
After the explosion at the hospital, young and vibrant Katya has one thing on her mind: to carry on her late parents' work helping sick children.
Sheve, a dedicated and relentless soldier, concentrates on his own mission to seek out a special crystal, the only thing they believe can help them defeat their mortal enemy, the Zefron. Yet, when the Zefron attack and destroy Sheve's base in their quest for annihilation, and Sheve's missing, feared dead, it is Katya who never gives up in her search for the one man she truly loves."
Love Social Media? Follow me on Twitter at hollyshearwater; personal Facebook page here and professional performer page here! I post show updates and giveaways on Facebook.
Reviews
"The narrator did a great job as well. Holly Adams brought this story to life. I really liked all the spark and mouthiness she gave the main character. She was fun to listen to, the narrator made the whole story fun and leaving me begging for more."
"I am so pleased to have been introduced to this great series via audio, otherwise I would have missed out on a terrific narration by Holly Adams. She absolutely nailed it. She sure knows how to deliver a line! The story has quite a few characters, all of whom are distinctive and diverse, but Holly captured them all perfectly."
"Her performance helped me be pulled into the narrative which greatly heightened my enjoyment. Excellent performance by Ms. Adams to bring the author's words to life."
"Holly has a knack for capturing the essence of each character.Her timing is impeccable-she made me laugh and empathize with the characters at the same time. Brava!"
Professional Accomplishments
"As a performer, I am always in service to the piece I am working on, listening for its heart beat and breath, creating opportunity for those harmonic moments where audience and actor touch like a finger on a violin string. I am also a driven educator, a passionate director and project coordinator, and a take-no-prisoners kind of person. These rivers of my life converge in my role as Artistic Director of Shearwater Productions." – Holly Adams
Holly Adams' professional career covers two decades and four continents! Known for her skills as a physical actor, her stage and film credits include Zombies, Aliens, and Shakespearean nymphs, witches, and warriors. When playing characters with 'normal' lives, these same drives of passion and honesty make her stillness and subtlety all the more compelling.
Holly Adams (III) on IMdB: View Holly Adams' IMdB page
Film Reel:

Holly is taking Trapeze class!

Next film project? "Gotham Blue", starring Holly Adams as Netta, the tough lawyer with a soft spot for the man she loves, in post-production!
Holly also does mask-making, stunt work, and stage combat choreography.
Happy New Year! Wishing you all joy and continued success in the year to come. If things are really awful, email me, and I will gift you an audiobook!