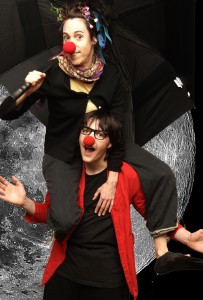 "An important archetype for the creative human being is the fool or contemporary clown." – Ken Feit.
Clowning is how we survive tragedy, understand our own ridiculousness, resist oppression, make change, find compassion, and even more sublimely look at the darkest parts of ourselves. Red Nose shows at Shearwater range in 'flavor' from blueberry sorbet (light and sweet) to double chocolate gelato (dark and delicious), and have a range of age-appropriateness. Red Nose performance and clown training are also key components of many of our Arts in Community projects. Read more about our work with Alzheimer's patients, hospitals, and war/peace projects in the Workshops section under Arts in Community.
Shows
Further Adventures of Clown (now touring). Basically, a day in the life of a kid, starting with the evil alarm clock and cold pasta for breakfast—a joyous romp and ultimate triumph for Little Clown! Perfect for pre-k through 6th grade and family fare. Check out the promotional video: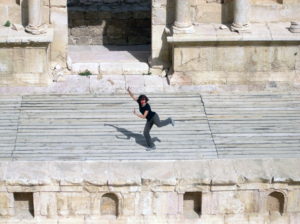 Birthday in the Park (now in development). Little Clown and Big Clown have adventures with wild animals, gravity, and cake over the course of a special birthday in this new piece designed for Elementary School children.
Big and Little Shop for the Universe. Little Clown and Big Clown are accidentally put in charge. Their quest for understanding and proper stewardship results in hilarity and disaster. Moon-landing included!
Red Nose/Hiroshima (now in development). Red Nose finds herself in a count back through time to ground zero. The buildings, other people, planes, and so forth are origami, brought to life by bun raku-style puppeteer performers. This production is a light in the darkness, the seeking to look at something in the only way it can be survived.