Recent Posts
Categories
Subscribe to RSS

The economy in the USA and Canada is beginning to pull out of the big ole tank, but jobs are still both hard to come by and easy to lose. Which makes it … the BEST time to stop telling your kid to get a degree in accounting, and instead help her/him become an artist!!! I now pause for you to get your knickers out of that painful twist while I clarify. Being a full time artist is very doable. It is also very different from saying "I want to be a Broadway/MovieStar". It's similar to the difference between, "I want to go into innovative technology" and "I want to be Steve Jobs." Those highly visible, highly specific goals are certainly within a realm of possibility, but they come as the result of hard work, initiative, discipline, and commitment to the practice/career itself. Wanting to be an artist as a vocation is not only fabulously feasible, it is also rewarding, practical, and in today's world, surprisingly stable.
Here's the story, morning glory:
Training– multiple entry points, multiple outcomes
Entry Points: one can become a full time artist via college/university training OR via workshops, diligent dedication to/with an artistic institution, mentorship, and project-based training.Outcomes: Training in the arts is also training in observation, expression, commitment, and a sense of excellence. Training in the performing arts adds improvisational problem-solving, the ability to work constructively and efficiently with others, presentational skills, ability to create 'mile-markers' for a project, the ability to work with a hard deadline, delayed gratification, the holding of the team's project above all other things including petty intra-office differences, critical thinking kills, and the ability to give input to others in a positive way. Turns out most businesses LOVE employees with these skills. Tom Vander Well says it like this: 10 Ways Being a Theatre Major Prepared Me forSuccess
Job Security  "What?!?!" Yes, people, yes.You might have a full time job at a museum, theatre, school, university, or college, and that full time job is as secure (or more so) as any other organization/education job. The John Hopkins Business School released a study  in 2012 showing that while other businesses were laying folks off, non-profits actually ADDED jobs… for the past ten years, including 2007-2009. What about education jobs? Well, according the Guardian and Forbes, "The biggest source of employment for graduates was the education sector – where more than a quarter (25.5%) now work." Read more here .
What if you are a free-range artist, ronin, piecing together a patchwork of employment and creativity? Here's the best news: I am never completely out of work. There are leaner times and fuller times, certainly, but even when some things fall through, my other over-lapping projects hold.
This is my life, and I would not trade it for anything, despite the hard, endless work, the constant outreach, and the lack of what I call "getting paid for not working"– you might know it as "sick days, paid holidays, and vacations".
Why would I not trade? What do I get?
All jobs have pluses and minuses; here's my pluses.
Freedom. I love my freedom. I love that if I look carefully and work hard enough, I can find a way to travel for work. I love that if I am happy with a group and their project, I can help it become an annual or regular event, but if I am unhappy with the people or project I am working with, our partnership will have an ending, and that I can still make the project wonderful and the ending graceful. Most of all, I love love love the variety of people, places and types of work. I love that any given day I may be deliriously happy working with fourth graders as they find their own artist-academic selves, recording an audiobook, rehearsing for a stage show, and doing my accounting (in one work day).
Human Relevance. I spend my time seeking connections…with people, histories, text, struggles, joys, sorrows, injustices, learning, discoveries… the list goes on, in every single working minute. I am also a part of fostering groups connection-seeking, in every project that I do. WOW. I make a living (and do a LOT of volunteer work) serving humanity, everyday. Making art. Striving for grace. As Henry Miller said, "Art teaches nothing… but the meaning of life." Please do not tell your child who wants to be an artist that they need to have a real job or have ambition—if serving people, fostering human connection, and creating grace are not good enough for you, well, you might want to wonder why.
Yes, your child will need to think about what to do next. Yes your child will have to have initiative and work hard, and yes, this life is NOT for everyone who imagines that it is.
But neither is being a Business Major.
PS There are also College and University programs for Business Arts Majors!!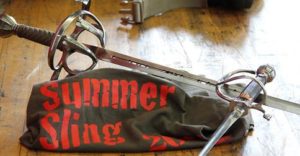 I spent part of this past weekend attending New York Summer Sling, "a 4 day stage combat workshop sanctioned by the Society of  American Fight Directors (SAFD). Classes are taught by SAFD certified fight directors and teachers from universities and theaters around the country. Class options include introductory instruction in all of our eight weapon disciplines for the stage, unique and specialized experimentation with period fighting styles, and master classes in advanced physical acting techniques" (from the Summer Sling website description).
Despite an incredible lack of sleep and profound anxiety ahead of time, I had one of the most wonderful conference experiences of my life. I am still, 48 hours later, in the throes of profound contentment and joy, brought on in part by getting out of my head for a while (which is good for everyone), in part by being in a constant state of motion (which is great for me personally), but for the most part, by being in the presence of so much … grace of heart and soul.
The people were kind and generous of spirit, all experience levels were welcomed and all attendees were welcomed and encouraged, regardless of background or challenges. There were classes for skilled experts and classes for the neophyte, classes for related skills (blood use and application for the stage, English Dancing), and classes open to everyone (such as "Action and the Camera Parts 1 and 2 (Corey Pierno)—>Students will experience action design as filmmakers, and will be taken through the process of breaking down a script, putting together a fight scene, camera and shot considerations, and solving unexpected problems" or "Shaolin Kicks (Michael G. Chin)—>Students will be taught basic Northern Shaolin Kicks and technique including crescent, instep, round house, cutting, sweeps and spins. Students will also be taken through stretching exercises. This class is open to all experience levels, martial arts training is not required").
These workshops are held in cities across the USA throughout the year, and you can take just one day if you want to. Obviously, if you have any interest in performing with weapons or staging fights, you would love it.
But so would most of the rest of you.
Are you writing a play or a battle-strewn novel? GO and take the open and/or novice classes, and ask to watch an advanced class in rapier or broadsword or whatever for one of your classtimes. Are you a theatre teacher? GO and take any one of "here's a new way of staging a battle" or "how do you create realistic contemporary violence" classes. Are you a regular person who needs a total immersion get-away that can be very physical, very fun, and very supportive? GO and get rejuvenated! Bring your kindest self, and soak in the learning.
You can also find them on Facebook here.

Written on June 1st, 2014 ,
Arts in Community
,
Arts-in-Ed
,
Masks
,
Performing
,
Teaching Artistry
,
Theatre for Social Change
Tags:
Arts in Community
,
arts-in-ed
,
education
,
masks
,
Silk Roads
,
Social Change
,
teaching artist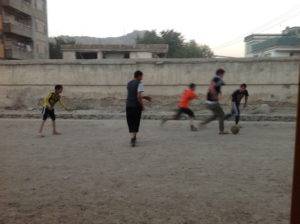 I am walking down the dirt road, my headscarf up over my nose to keep from breathing quite so much dust and smog, averting my eyes and trajectory from any men, and looking for the cement stanchions on the righthand side that mark, for me, where I turn left. So many of the courtyard and protection walls look similar, I am still nervous about making a mistake, even though I have taken this route for over a week. My left turn takes me down another dirt road, past the home of somebody important, to the middle of the next block. There, next to a yellow metal door in the huge security wall, the building's white facade is painted in bright colors with images of children juggling, standing on each others' shoulders, and smiling. This is the compound of the Children's Circus of Afghanistan.
Because I think my work with the girls there was colored/textured so heavily by the context of what is happening in Afghanistan, I want to paint a more detailed picture of what life is like there, especially for girls. As many of you know, Afghanistan has been torn by war since the 1970s, with the Taliban 'occupation' setting new standards for oppression and cruelty in this part of the world. When I was in Kabul eleven years ago, it was illegal to listen to music, wear bright colors, watch television or movies, illegal for girls to go to school, and for children to fly kites or play outside.
Of course, in true Afghan spirit, people did these things anyway, fighting the darkness with secret arts and education. How telling that these two phenomena, arts and education, are perceived as the most threatening things people could do!! And yet, this is what we Teaching Artists know, that arts and education are tools of immense power to instigate thinking, compassion, and action.
The dynamic and delightful blend of arts and education is the backbone of the Mobile Mini Children's Circus/Afghan Educational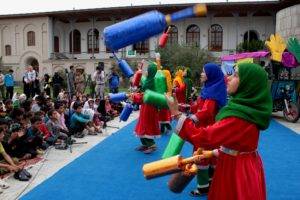 Children's Circus, and is what took me down those dirt roads this past October and – I hope! – will again in 2014.
Although I spent half my time volunteering with the Afghan Friends Network, each day also held time with the wonderful children at the Circus school. Some days I was with them as they went to perform, some days I was the teacher for the full morning, and some days I hung out with them in their math or science or English or Dari class before being their Teaching Artist for the following hour and a half to two hours.
It's hard for people in the US to really understand what girls 'taking up space' means, how important that is in and of itself, never mind the actual defiant act of girls studying anything outside of the Koran, which is still an issue (especially outside Kabul) despite official government support. Girls performing, having actions and a voice, being seen strong and bold in public and across Afghanistan deeply affects everyone—the viewers, the families of the performers, the boys in the Circus, the girls themselves.
There are so many street children here, and their situation is truly bleak. Many of the children at the circus would be walking that road without this incredible organization–which feeds them, by the way. Moreover, too often, street children and orphans do not have the opportunity nor modeling to develop social skills needed to thrive and become the agents of change they wish to be; the social skills needed to learn as a team and perform integrated juggling routines develops these skills. I was asked to help develop the girls' sense of 'theatricality'; what is character, how does one develop them, how/why would you include characters in a juggling routine… what is a scene… how does comedy and comic timing work… what are forms of local narrative, and how can we create work along those lines…entrances and exits… beginning/middle/end… physical theatre techniques, and so on.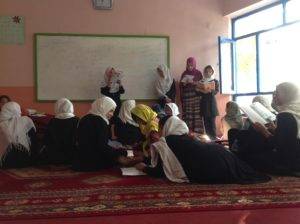 So there I am, only enough Dari to say hello, in a room full of children who typically all talk at once to each other throughout their academic classes (all learning and working, by the way), tasked with doing that listening-teaching thing in hopes of sparking their understand of and interest in various theatrical concepts. Daunting. Exciting. Chaotically beautiful. Each day I would come, not knowing if the schedule would bear any resemblance to what we had talked about the previous day, having a lesson plan of something fun, student-driven, and geared toward skill-discovery and exploration. I always came early so I could hang out with them in their other classes or as they prepared to perform, and participated in warm-ups, being extra goofy or rigorous or reflective as it felt right to do.
Some days I had some translation help from the "circus father" Hamid, sometimes my friend Eva of the Afghan Friends Network (who is not fluent but had waaaaay more Dari than I did) would help and participate, sometimes I and the girls struggled through with bits of Dari they taught me, bits of English they knew, and a great deal of gesture and pantomime. One day we played with masks and discovered characters, gestures, and walks, then let them create little scenelets (girl with mask video clip).  The next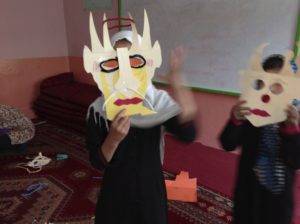 day we played with objects, creating scenes around them then using them to become other objects (including a hilarious one where a woman trying to smack a fly with a swatter pops another character's heart). Another day we built on the "this object is really something else" and grew scenelets with those, focusing on humor and poignancy. We found it was easier and more fun for them with the masks, and that the 'conceal/reveal' nature of the masks made entrance and exit buttons more apparent. 
Slowly, bit by bit, we negotiated what was important, what was fun, when it was time for a break, when we wanted to work beyond the normal parameters. They came to trust my intent and instinct and would reach more passionately across the divide of language as well as that of theatrical understanding. They worried less and played more. On our last two of my ten days, they created a new piece based on a favorite folktale, using each other as the trees and house, discovering largess and timing and so much more, and even though it was fairly raw, it was enchanting and Hamid planned on developing it to be included in the touring show, the first piece of its kind, the first story told. This video clip is from part of the story where the father has plucked the sacred fruit, is accosted by the ogre, and in fearful desperation, promises the ogre one of his daughters in marriage. For our final day, I wanted to plan an activity that was loose and individual as well as cooperative, so they made their own masks.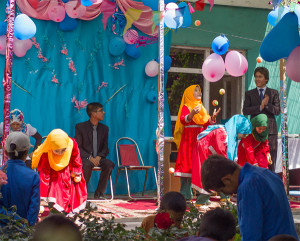 I was told I should extend my stay, which I logistically could not do, so instead we have made plans for my return, which includes grant hunting and Dari-learning. I can only believe that somehow the pieces will come together, and I will again be in a deliciously crazy situation with brilliant, brave girls who will be the first in many years to tell a story, be loud and large and take up space in front of everyone. In the grey-brown streets and hills of Kabul, my heart will be bright and full of joy and gratitude.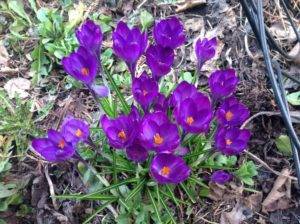 Today the snow melted, and I was able to unzip the jacket I wear in the house over my sweater, long johns, and undershirt, and finally…after months of experiencing the act of creating like sucking marrow from a dry bone, I felt like it might be fun to work on one of my projects.
!!!!!!!
'Might be fun to work on one of my projects', coming from my "North of the Wall" inner landscape, was a powerful and radical thought, and I began to think maybe I was able to not only catch up on the bare bones of what was past due, but possibly even—gasp!– actually pick back up the threads of non-critical projects, and do those as well (like submit my play and write a blog post)!!!
Even though it has snowed again for the past two days, several nights ago was the first warm night of the year here in the Finger Lakes region of Upstate New York. I couldn't help it; tired as I was, fed up and frustrated with difficult situations and from not having said more often, the softness of the wind tugged me free from the car. I paused, captured, face upturned, and felt every muscle in my body and even my brain relax. It has been a tough winter for me, a winter that seeped into my creativity and made it curl up, spines outward, and bury itself in dry leaves. That smell, however, that true spring smell, made that semi-hibernating creativity unfurl. There is something breathless and secret about spring nights, full of sound, peepers, earth smell and promise….
I share with you some thoughts I had during the winter:
There were early mornings when the temperatures were between -8 and -10 degrees Fahrenheit with a windchill of -18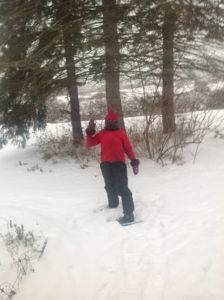 at my house, and down to a record setting -61 degrees Fahrenheit (with windchill) elsewhere in the Finger Lakes region. We were out of split wood, and my husband (the usual wood-splitter) had a broken ankle, so I pulled on a sweater, coat and boots over my pajamas, topping it off with a hat and scarf, and headed out while the sun was rising to attack the woodpile.
As I was out there whacking away at the often uncooperative chunks, freezing my butt off, my eyes tearing with the cold, I said to myself, "How is this a metaphor for working on an artistic or community project?"
Okay, so the "being out in the cold" part is obvious ( 😉 ).
But there is also doing for others, overcoming seemingly insurmountable obstacles, and actually accomplishing nearly impossible dreams that is deeply satisfying.
In retrospect, I realize that work is the distance between desire and accomplishment.
And today is my return to a joy in work, which makes the traveling the distance much smoother.
Happy Spring, my friends.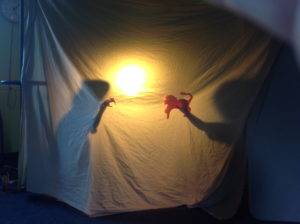 These past weeks have held plentiful reminders of the horrendous things we do to each other as people and societies. In the face of large darknesses, we often for get that ignorance and intolerance are bred and cultivated in much smaller arenas long before they grow into mass malignancy. I myself have found it difficult to find anything to write about of late, and I am one of the most pragmatically action-oriented people I know.
With this in mind, I have decided to devote this blog and the next to arts-based projects that are creating opportunities for connection and knowledge. The texts about the three projects are directly from the blog articles themselves, and the title is linked to the original. Here's an added bonus– you can become involved in these yourself, in one way or another!
"Many women's arts organizations have worked to increase the visibility of women artists online.
WomenArts created our online directory of women artists, the Women Arts Network, in 2003 because we wanted to encourage women to increase their presence on the web. Any woman artist can create a free profile page on our site, and we currently have about 1,600 active profiles. We have also compiled a list of other directories of women artists. If you know of a directory that should be added to our list, please contact us.
It is important to keep adding information to our women-controlled websites, since Wikipedia has rules and a culture that will be challenging for some women artists, but we agree with the founders of Art + Feminism that we need to make sure that women artists are fully represented in this online encyclopedia that so many people are using.
Documenting women artists worldwide in all art forms is a huge task that will require input from thousands of women, but it is something that all of us can work on – either on our own or in groups. If you are looking for something to do with your friends this year on SWAN Day, this could be a great choice. If you are a teacher, this could be a great project for your students.
Art + Feminism has created some excellent Wikipedia articles to help you get started. There is an article about how to organize an edit-a-thon MeetUp group, and their own Wikipedia Meet-Up page has links to upcoming events and helpful articles about creating and editing Wikipedia listings."
World Theatre for Children and Young People
This is from a Huffington Post blogpost by Lauren Gunderson. "Not to sound overly grand (too late), but so much of the toxicity in this world comes from a collective draining of empathy. We don't understand each other, and we don't want to. But theater invites us — no, forces us — to empathize.
As my friend Bill English of San Francisco's SF Playhouse says, theater is like a gym for empathy. It's where we can go to build up the muscles of compassion, to practice listening and understanding and engaging with people that are not just like ourselves. We practice sitting down, paying attention and learning from other people's actions. We practice caring.
Kids need this kind of practice even more than adults do. This is going to be their planet and they've got more time to apply that empathy and make a difference. Buddhist roshi Joan Halifax challenges us to actively and specifically teach children (and vote for presidents with) empathy. Why not take your child to the theater to do just that."
"Your Fatwa Does Not Apply Here"
This is holly again, speaking about this book that shares with us the incredible work of artists and performers of Muslim faith striving against the oppressions of fundamentalism. I first became aware of this amazing book and the work of some of the people profiled in it when I read a published excerpt in Theatre Without Borders newsletter. I quote from the book's description on Amazon: "From Karachi to Tunis, Kabul to Tehran, across the Middle East, North Africa, South Asia, and beyond, these trailblazers often risked death to combat the rising tide of fundamentalism within their own countries.
But this global community of writers, artists, doctors, musicians, museum curators, lawyers, activists, and educators of Muslim heritage remains largely invisible, lost amid the heated coverage of Islamist terror attacks on one side and abuses perpetrated against suspected terrorists on the other."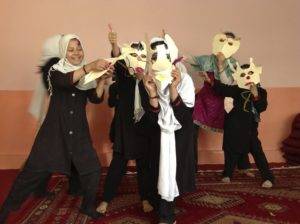 So there it is. Read the book, or add Women Artists, or support incredible theatre for children— it is with these small actions that we change the shape of a landscape or the course of a river.