Recent Posts
Categories
Subscribe to RSS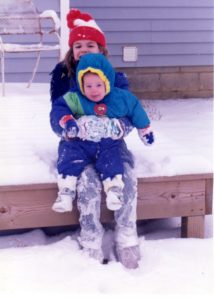 With Chanukah and American Thanksgiving just around the corner, and festivals of light and Christmas not far behind, some of my friends are at a loss as to what kinds of presents to give or how to connect with their family, friends or communities across the miles. I was mentally masticating on this conundrum as I picked up a wonderful anthology I am reading, Murder for Christmas.Then it struck me like a frying pan to the face—WHAT A GREAT PROJECT TO DO! This being an arts-in-ed blog, I am hoping none of my readers freak out, but instead read on to my three simple, fun, easy ways of celebrating whatever you celebrate with people you care about. AND these suggestions have a base cost of ZERO; what you spend on folks is your time.
Write a group story.

Choose a holiday or holiday theme (lighting candles or sledding, for example).

Choose a character (or a few) that is a source of fun or remembrance for the group. Garden gnomes, my grandmother, and dogs are always great story centerpieces in my family. Think of an event or story that is true, and let your mind wander about mischievously to alter it a bit. Write a short paragraph that has a cliff-hanger and some implied action. Next is the tricky bit, and should be adjusted based on to whom you are reaching out, because you want people to participate in a way that is comfortable for them, and you want it to feel easy—and sometimes these two things require opposite kinds of organization. My suggestion is send out on the email waves your idea,your paragraph and a list of dates for people to choose (so that the story will have a linear path). For example, maybe have it set up for the 8 days of Chanukah or every-other day leading up to Christmas Eve. Then send out the final version to everyone, or record yourself reading it and send that out, or have a video hangout and share it together! Cost: NOTHING. If you need public access to a computer, this kind of usage is free at most libraries, and it is simple to do.

Create a Holiday-Themed Crime Scene.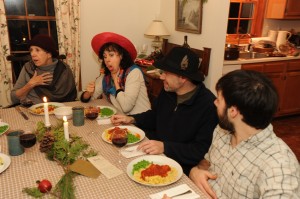 You know I create interactive mysteries for events and for homes, and yes that is hard to do. BUT this idea is much simpler and can involve everyone, and is terrific for children. In a nutshell, there are those creating the crime scene, and those who will be detectives. For example, maybe the grown ups are creating it and the kids will be the detectives. Side note: more than one household can have the same group-created crime happen! The Crime Creators choose a theme, then a crime (something is missing ((Stolen? Lost? Transmuted? Etc)), someone has been kidnapped, some place has messily searched), then decide the 'who' and the ' why'–again, family jokes or themes or stories work best. Set the stage and voila! Help solve the crime and make sure sweets and treats are there for rewards. Making these choices as a group– maybe even different people get to have final say for different aspects– makes it all the more fun. Then on the day of the event, perhaps there is a phone call or an email clue that helps solve the mystery. Video tape the same mystery playing out in different homes, and share that, or just talk on the phone afterwards and be sure to have the kids swap solving stories. A terrific advantage to these is that there isn't any real writing involved. Cost: can be as low as zero—just use what you have!
3. Make your own anthology of remembrances.
Many of us have had a family or group member collect photos which are then made into a little book (digitally or physically) for a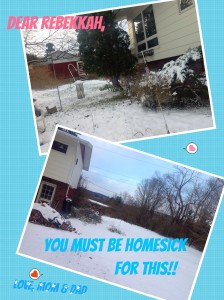 holiday. This idea is similar, and has the advantage of everyone being able to do their part –or not– without very much structure. The point person (you) chooses a person or theme. Keep it narrow, because people do better with some specifics to spark their memories and with some structures to build on. Put out a call or email blast, include a deadline and your own example, and collect the mini-stories and memories as they come rolling back in. For example, I might ask people to share a memory of a time we were all together, including my Texas family. Or, I might suggest that each story have a pet in it, or involve my grandmother. Once you receive the stories, organize them into an arc, maybe add a photo or two (in the word doc or on paper), and voila! A lovely group gift that will be a surprise for everyone in the group. If it is all digital, the cost is ZERO and this project can easily be done at any library. Or use something shutterfly, vistaprint, snapfish et cetera to make an inexpensive lovely 'book' with more pictures.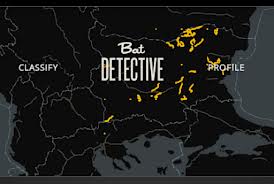 It's that time of year again when ghouls and goblins populate the fronts of houses and the piles of candy at the store and children get excited about 'what to be'. Some of my friends and colleagues be'moan' the hype, commercialism and calories. I personally LOVE Hallowe'en (I'm a theatre person, remember, with an active inner child), but this blog is dedicated to those who don't. This blog is for those who want to do something somehow connected to some aspect of Hallowe'en-ness, but but at all related to consuming. Here are my recommendations.
Bat Detective.
No Vampires, but way too many Bat Calls from Romania (!!!) for scientists to go through, so they are asking for help sorting and categorizing various sound files. Your/your family's help helps with conservation and migration research. It's free, easy for anyone (including children) to do, and the tutorial is quick and very helpful. Find it here.
This project (and others) are on a fantastic citizen-science website called "Zooniverse". Check it out—if bats aren't your thing, join a space project, or help climate scientists by combing through old shiplogs for weather reports, or identify animals caught on camera in the Serengeti…or even help go through medical slides identifying cancers.
Branding Lessons from the Undead 
Can't get away from work, but want to 'get in the spirit'? No bones about it, there are a number of business blogs that are rocking the Hallowe'en vibe to do business as unusual so to speak. My husband alerted me to these two terrific articles that mix business with pleasure; click here for "Branding Lessons for the Undead", and here for "Putting the Horror into Horror Writing". I thought the article about branding was particularly brilliant.
Do you work with elderly folks, folks in a recovery or care facility, or a community center? Or with kids?
What an excellent opportunity to celebrate personal and local history! Folklore isn't just about the lore, it is also about the folk, and EVERYONE has stories about autumn events. Whether your great-grandfather fell off the thresher, or your (or your dad's) childhood friend swore a ghost lived in the attic and the scarecrow was alive, or you had a tomato fight, this time of year provides lots of fodder that can prime the pump of rich, delicious memories. If your clients are mobile, make a circle and record the tall tales and make a CD of them for later pleasure or for their visitors. Serve s'mores and hot cider, and ask questions about corn and barns and cats and running in the darkness. Notice aloud the themes that crop up, and maybe read from collections of local tall tales….
I personally am using one such collection, "I Always Tell the Truth (even if I have to lie to do it!)" a collection of tales from Adirondack lumberjacks in an upcoming course. Great Stuff!
If your clients aren't mobile, having a little paper or online questionnaire to help prompt the stories, and create a printed collection, again noting cultural, historical, or geographic themes. Kids can make a picture book of a story from an older family member or friend!
Things to Watch or Listen To:
Instead of doing the most commercial thing, reach back in time and listen to, watch, or broadcast some oldies but goodies. 
My movie recommendations: "Abbott and Costello Meet the Mummy" and "Abbott and Costello Meet Frankenstein" are good for anybody, any age, any background, even people who hate Hallowe'en. Make popcorn and get ready for the oldest cheesiest gags in the book in these delightful homages to the horror greats (which star the likes of Bela Lugosi and Lon Chaney Jr, by the way). Orson Welles' "War of the Worlds" is a terrific listen—and there are lots of short adaptations if you/your group/your family want to do it yourselves!
Haunted History Tours
Every town has history, and not all of it is pretty. Luckily the gruesome and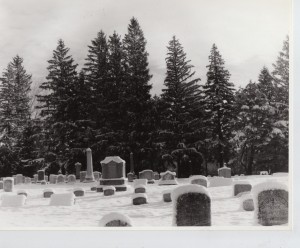 gross are often very interesting! Go on a haunted tour or make your own map of murders in your town. Why not? Learn about the architecture of the homes of your city's local criminals of 50 or more years ago. Remember—the older the event, the more fun and creepy it is to think
about. Don't pick anything too recent—social and emotional wounds may still be too fresh. Generally, anything during or before WWII is best. And frankly, as someone who has done official haunted tours, people love realizing that some nice old lady in the late 1800s poisoned her daughters … slowly… with arsenic….in this house….. (or was hanged…right here, where the old gallows stood)!
In a nutshell, find a way to embrace the season even if you need to push away certain aspects or values of it. There's always way to have fun, do good work, connect to history and community, and get your work done!
It's nearly Hallowe'en, and many people will be celebrating the change in how the seasons 'feel', the night of hallows, the Day of the Dead, and/or All Saints Day. This year, Mystery & Adventure Agency has been involved in a number of mystery events, ranging from being co-sponsors of the Ithaca Haunted Tours, to Agatha Christie Mystery Luncheons, to custom-tailored Mystery Dinners that are unique to the clients' situation.
This week's blog is a rumination on the question, "Why are we drawn to the mysterious?"
There is something wonderful and joyous about the opportunity to safely 'let go', whether that means portraying something or someone scary or allowing oneself the latitude of being deliciously, shriekingly frightened. More than that though, I think we are drawn like moths to flame by the unknown. The loss of a job is terrifying in its own right, but the night before a new job is absolutely stomach-wrenching, but in some way exhilarating.
 A new language, a new skill, meeting the 'Significant Other' of one's grown child, moving – anything that takes us out of our familiar element creates a state of fear and even dread. But we are creatures of curiosity (YAY), and if we believe the event will turn out okay, the fear has a hint of thrill and leaves a taste of excitement on the tongue, becoming an adventure.
A haunted tour, or a mystery dinner unfolding with ourselves included, pulls us, draws us into the darkness of unfamiliarity, not knowing what will come next …. AND it includes some of our most terrifying concepts….being stalked by someone with murderous intent! All in fun, of course, and the knowledge that we can let go and allow ourselves to be vulnerable and startled rather than wary makes the whole thing even more exciting.
On that note, go out and get scared or host a mystery dinner of your own (shameless plug here: Mysteries at Home Youtube promo!) or go on a Haunted Tour, or join in on the safe scaring and help create a mystery/haunted tour on your community.
Happy Hallowe'en, y'all!
Click here to read the Huffington Post on Haunted Hotels
Click here to read about Ithaca's Haunted and History Tours
This week is short and sweet.
I have just come from a delightful evening that borrowed from Jasper Fforde, Ian Fleming, and a host of Computer Forensics,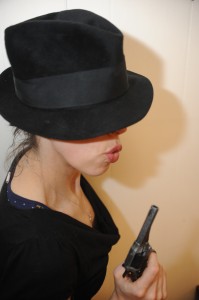 In many ways, it's almost a guilty pleasure, something that is so much fun and light that it seems like it must have no deep or intrinsic value, even though people are compelled to reach, think, interact.
But then, I thought of the words of the great Shaun Tan, author of some of the most compelling, lovely, powerful books I know (my favorites are The Red Tree, The Lost Thing, and The Arrival). "For me, that's what creativity is – it's
about exploring inwards, examining your existing presumptions, squinting at the archive of experience from new angles, and hoping for some sort of revelation.." -Shaun Tan
Not everything has value that is measured by its intensity, its shock of hurt and awe. Sometimes our capacity is expanded by something completely new, a radical paradigm shift of experience, relationship parameters and modality of interaction that if it weren't so fun would be terrifying. Sometimes, delight is what puts wings on our feet, and sends us further than we could have jumped in sorrow or fear. Sometimes, revelation is soft or sweet, or funny and delicious, or even playful and wondrous.
And sometimes, that's enough.  😉
I am lead writer for the Mystery & Adventure Agency, and next Spring, we are co-hosting a fund-raising 5K for arts education in our community. It'll be spectacularly popular, fabulously fun, and full of people clamoring to dress up and perform, and who will pay for the privilege and then feel better afterwards.
It's a 5K Zombie Run.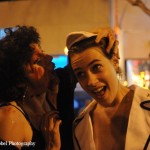 But why?
One evening I was taking a break with an international publication, and after finishing the article about Mauritania's Conservation Coast, I turned the page. It was an article called, "Monsters from Mesopotamia" (http://www.saudiaramcoworld.com/issue/201204/monsters.from.mesopotamia.htm). It was absolutely fascinating, especially to someone who loves monsters, loves history, and loves writing and performing monsters. And I, like so many others, am a big fan of pop zombies (I am even in Zombie in a Penguin Suit http://www.youtube.com/watch?v=jtdEKIsnEkM). They make for great public/participatory art, partly because the costumes aren't too hard, and partly because the depth of the performance required is, well, brainless. I idly wondered if my predilection was common, and if so, how common.
Enter Zombie Super Cool fact Number One: "A recent Google search showed the word "zombie" garnering 318 million Web pages, while "vampire" collected a mere 80 million, with "werewolf" loping in third at 44.5 million."
HOLY CANNOLI. Why would they be that much more popular ? I thought, maybe Zombies have always been that popular. Enter Zombie Super Cool fact Number Two.
Intriguingly enough, although the earliest man-wolf transition in literature is from Gilgamesh and vampires can be traced in writing and etymology to multiple ancient sources (the 3000 year old Assyrian incantation is deliciously creepy), the modern Zombie, is a relatively recent creation. The historic Zombie "is a corpse revived by a sorcerer or magician, usually in the context of Haitian, Louisianan or West African Voodoo. The zombie then becomes entirely subject to the power of its master. In literature, zombies have been known to guard treasure, terrorize neighborhoods and, more generally, commit murder. . . . .This new zombie, popularized in director George A. Romero's 1968 cult-classic movie, "Night of the Living Dead," is a revived corpse that relishes human flesh and, of that, the brain most especially."
So then, of course, I started chatting with my husband about it, and we became curious as to when/why exactly Zombies became popular. My theory was that people feel like an Apocalypse is on the horizon, that things are crazy, out of control . . . and art—literature, movies, dressing in costumes as Zombies for things like this new awesome ZOMBIE RUN trend, et cetera (Run For Your Lives is a big version of this)—helps us survive.
Enter Zombie Super Cool fact Number Three: Google Analytics show this trend begins in 2008!!
AND Google Analytics show that Zombies kick Vampire and Werewolf BUTT.
It begs the question, though….
Zombie vs. the Tea Party.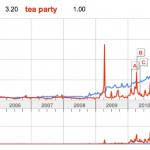 Hmmmmmmm……. Tea Party Actions/News Releases result in Zombie spikes!
What about… Zombies vs. Kittens?
OH! And the Kittens are goin' DOWN in 2009 and do NOT recover!! (Kitten one not shown..sorry)
How about Zombies vs. Sushi?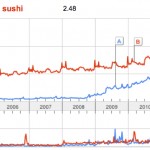 Yup. As my husband says, "People must be eating more brains."
Vampires deal in blood and seduction, werewolves are misunderstood but ultimately still violent and there will be no good outcome. Both are clever and manipulative. It hurts to be them. But a lumbering slavering short-lived decaying Zombie, or a sprint Zombie rising up out of the mud on a Zombie Run,clamoring to yank the runners health flag? MINDLESS FUN.