Recent Posts
Categories
Subscribe to RSS

Schools are now in session, and once again Social Studies teachers are wondering how to get their students to remember the many different peoples that are too often lumped together as 'Asian' or 'African' or 'First Nations/Native American'. English teachers are hunting for a new way to engage students in discussions of The Odyssey or The Iliad or any Greek plays or legends. Theatre teachers are adapting a folk tale……. and everyone's budget has been cut. Masks are a wonderful way to discover differences in cultural perspectives, character nuances, and the ideas of subtext and implication. But what if you are prohibited from ordering art supplies? Well Ta DAA! Enter Manila Folder Masks. Made almost entirely out of Office Supplies!!! Contact me if you want the accompanying how-to in comic-book form.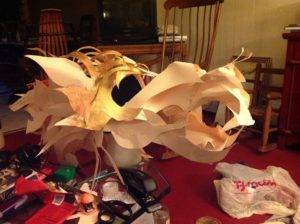 Manila Folder Mask: What is it? 
Believe it or not, Manila Folders have different properties than any other paper product, including card stock and oak tag, which they resemble. They are more pliable, more resilient, and more durable, and can take and hold more shapes than any other paper product. I STRONGLY recommend to group leaders or anyone wanting to lead students on this venture to experiment with this marvelous stuff first, and really listen to what it is telling you. Make curls, make cupped leaves, make springs and foldy sproings or bridges. Cut slits on an angle and bend them open… The picture on the left is a Dragon I am making right now!
What are the pros and cons of using it?
Pros:
*So many teachers cannot order "art supplies". Luckily, these are OFFICE supplies. Plus, it's very cheap!
*You can make them REALLY BIG (I made a 3.5 foot-long dragon's head complete with hinged jaw with folders, staples, and brass paper fasteners)!
*You can do it without any liquids, and the 'waste' materials are all recyclable!
*Materials do not need to be new—used works fine.
*It's stronger and longer-lasting than papier mache.
*Anyone can do it. Children as young as 4 and as young as 84 have had delightful experiences making manila folder masks.
Cons:
*Manila folders are an intriguing material. No matter what you do, it will be really cool. However, to be able to create what you want in any intricate or huge way, you really have to play with the material, listen to it, watch it behave, learn it. I personally think this is a "Pro" not a "Con".
*Repeated sweat will 'eat through' the head band—so you put packing tape on the inside. Which, of course, means that it becomes cleanable. How cool is that?!?!?
TIPS
Stage One: 'Sculpting' the form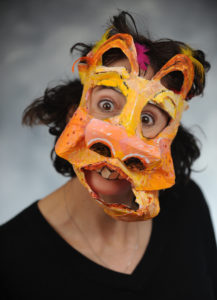 There are several basic models from which to 'grow' a manila-folder mask. I will outline the form that is simplest and lends itself to the most complex. In this case, the 'form' is a supported shape of your head. First, create a band that snugly fits your head. You will need strips from the length and width of your manila folder to make one long enough to go around your head—make it about an inch or 1.5 inches wide. NOTE! When you staple the two pieces together, make sure the 'head' of the staple is on the inside and the 'feet' are on the outside, so the staples do not get caught in your hair or scratch your face. This is a general rule for this project.
Inside, beginning of a mask structure
After you have made the snug band, you need to create at least 2 cross braces over the top. I recommend making them run diagonally rather than perpendicularly; strength comes from mixing diagonals with right angles, and you'll want the right angles for your ears/hair/crown, nose, horns etc. NOTE! It's best NOT to trim the braces. Make them toooo long on purpose so you have an uncut strip to which you may attach other facial structures. Joints are the weakest spots, so we want to keep them to a minimum.
Stage Two: Building the Mask
At this stage, it is important to know what you are aiming for. Are you 6 years old and making a bird with a 4 inch beak? Are you an adult artist making a 2 foot long monster mask? It is important to know because you will now build the support frame and then portions of the outer part of the face. Wait—what? PORTIONS of the face?!?! YEP! Part of makes Manila folder masks so groovy is that you don't need the whole outer part to be solid. The masks look awesome with spaces and they also look awesome with a 'skin' of light fabric, gauze, tissue paper, even toilet paper (tissue and toilet paper should be brushed with modge podge).
To build a support for your bird beak or giant monster face, use long slender strips with cross braces, tabs, folds, or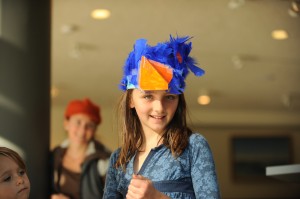 curls as supports. Remember to connect strips at diagonals and right angles for maximum strength, to have the attachments be at different locations on the strips to prevent 'joint weakness', and to make strips as slender as a half-inch to make the structure light. I have included photos here to help show what I mean. In case you are interested, I have created a How-To booklet in a graphic novel format to show some manila folder mask-making techniques, and if you comment on this blog post, I will send it to you for free.
For cheeks, chins, ears, brows and so on, cut out trapezoids, teardrop/leaf shapes, fat rainbows, et cetera, and experiment with bending them to make a box or 'canoe' with 'tabs', pressing them into your palm to make a 'cup' with extra on the bottom for stapling, and so on. Folders LOVE to hold these shapes! Make them slightly larger than you need or with a tab or tail for attaching.
Go ahead and try something! Remember that all masks want to be super 3D. Add horns, hair, squiggles, nostrils….go crazy! One classroom of 4th graders with which I worked struggled with their first 'test drive' mask. They then absolutely fell in love with the stuff, and made masks for their play based on First Nations Tales, then made masks just for themselves! They loved it so much they gave up computer time!!!
Stage Three: Finishing up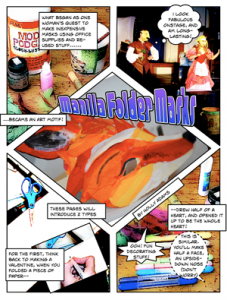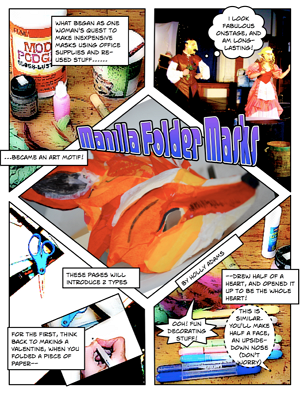 Inside: I would put a light layer of modgepodge (which functions differently than either glue or wallpaper paste) for strength and rigidity. You may need to put some packing tape on the inside to protect the mask from your sweat or to cover up the staple feet that you did on the inside by accident.
Outside: For a crisper hold, use modgepodge. One neat trick is to draw on the manila folder pieces with magic marker (MUCH better than soggy paint!) then put modge podge on (immediately for a more paint-like look, after a moment for a harder line look). Lay colored tissue paper over the markered area. Voila! It looks AWESOME through the tissue paper. To make the colored tissue paper even more translucent, put a light coat of modge podge on the outside of the tissue paper as well, once the underneath coating has dried. I strongly recommend experimenting on scraps first!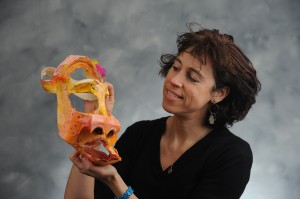 Before launching into this week's blogpost, I want to encourage you to support rabble.ca. If you are reading this post on Shearwater Productions, please take a minute to go to the rabble.ca website, read/listen/explore, and become a supporter of this amazing grassroots organization.  If you are reading this on rabble, take a moment to read something else here and become a supporter!
And now, the blog.
I have given a bunch of mask-making workshops recently, with the adult cast of a show, for toddlers, in school settings, with tweens who have disabilities, and as part of a physical theatre performance at a museum. Each time, the group members have been surprised by the 'newness' of it, then cautious and worried about 'getting it right' as they begin, then delighted and enthusiastic as the masks/characters come into being in their hands. Too often, I think, such exploration of an alien landscape is relegated to an art class when it's power and wonder would blossom in sooo many other circumstances. I hope this article encourages you to take on a mask-making moment with your community, classroom, eldercare folks, children, women's group…… all of it!
I have made masks out of many materials and using a variety of techniques, from traditional (wood, leather, fabric, papier mache, feathers, etc) to 20th century (latex, neoprine/acetate) to my current favorites that others are now also choosing:
medical plastic (aquaplast) and believe it or not, manila folders. The Fox and the goofy pink/orange mask are examples of manila-folder masks, and I have made masks of horses and dragons that are almost three feet in length, and still light and strong. I am mad-CRAZY in love with this material!
I am deeply committed to manila-folder mask-making and spreading the love and use of this amazing material, because
it is so low cost (used folders are fine, and new ones can be had very very cheaply) that even impoverished schools and arts programs can use them
there is no need for water, so no cost there, and can be used in drought/water rationed areas
materials and by-products are all non-toxic, recyclable and mostly compostable
sooooooo easy to clean up
making masks like this involves creative problem-solving, geometric/architectural thinking, and artistic process!
This begs the question, why mask-making workshops? Why masks at all?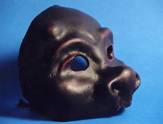 Balinese people say that a good mask has 'taksu', it is a 'spirit house'. I think that's why people are drawn to masks—they seem to have a life of their own, their own passions, movements, intents, personalities. The better the mask, the more intensely we are excited, nervous, frightened, intrigued by them and by the idea of wearing them, performing them.
After all, why do people wear masks? To conceal identity…but that concealing is also a revealing, a taking on of a specific and 'honed-in' characteristics and implications. For example, the Lone Ranger and Zorro both wore simple black masks. Simple black masks, not red sequined masks with feathers or scuba masks or Scooby Doo ones. Simplicity of action and intent is part of what is implied by the mask, and the color and lack of distinguishing features implies something perhaps in the shadows. If you look at pictures of these two iconic masks, they might invoke a feeling of "strong" or "direct" as well.
Why else?
To play a specific, sharply defined character or one markedly different from oneself (as in Hallowe'en masks and Commedia dell 'Arte masks); to play a part largely enough to be seen from farther away; to become a character beyond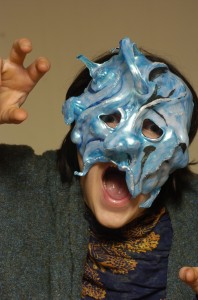 human experience—gods, animals, trees, legendary creatures, even personified ideas. A mask also frees the self by demanding a higher level of commitment and releasing of self than other kinds of performing; the character of the mask is not only more sharply defined, but also more powerful, as the intents and emotions are amplified. Who the performer is becomes irrelevant—men, women, children of any ethnicity, language, and physical ability can become the character. It's sort of the opposite of being a movie star, because the character has more life/importance than the performer, and different people can play the same part. How awesome is that? (Especially if the piece is political and the actor is arrested!)
There are more reasons, of course, but these are the main ones, and the ones that drew me to masked performing while growing up. I was deeply, almost pathologically shy as a child, constantly afraid of taking the wrong action, saying the wrong thing. Becoming an actor helped enormously, but exhilarating freedom came from discovering, 'listening to', and embodying a mask's clear demands.
The process of making masks can be:
therapeutic
a means to connect more deeply to a cultural idea or animal legend (especially in an Elementary School Social studies or Language Arts curriculum)
a successful modality of expression for folks with language or writing challenges
WAY FUN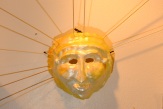 The Arts and Arts Education are for everyone. I hope the spirits of these masks intrigue you enough to suggest a mask performance at a local school or a mask-making project as part of a social-studies unit or elder-care facility, or for yourself to take a secret afternoon and call forth a creature from your dreams, bringing it to life with the materials in your hands. And let me know if you need pointers; I have written a few "How-to" mask-making blogs, and I am happy to share!
Written on June 1st, 2014 ,
Arts in Community
,
Arts-in-Ed
,
Masks
,
Performing
,
Teaching Artistry
,
Theatre for Social Change
Tags:
Arts in Community
,
arts-in-ed
,
education
,
masks
,
Silk Roads
,
Social Change
,
teaching artist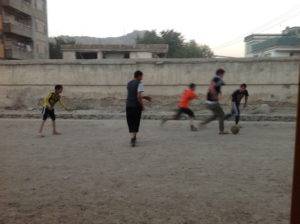 I am walking down the dirt road, my headscarf up over my nose to keep from breathing quite so much dust and smog, averting my eyes and trajectory from any men, and looking for the cement stanchions on the righthand side that mark, for me, where I turn left. So many of the courtyard and protection walls look similar, I am still nervous about making a mistake, even though I have taken this route for over a week. My left turn takes me down another dirt road, past the home of somebody important, to the middle of the next block. There, next to a yellow metal door in the huge security wall, the building's white facade is painted in bright colors with images of children juggling, standing on each others' shoulders, and smiling. This is the compound of the Children's Circus of Afghanistan.
Because I think my work with the girls there was colored/textured so heavily by the context of what is happening in Afghanistan, I want to paint a more detailed picture of what life is like there, especially for girls. As many of you know, Afghanistan has been torn by war since the 1970s, with the Taliban 'occupation' setting new standards for oppression and cruelty in this part of the world. When I was in Kabul eleven years ago, it was illegal to listen to music, wear bright colors, watch television or movies, illegal for girls to go to school, and for children to fly kites or play outside.
Of course, in true Afghan spirit, people did these things anyway, fighting the darkness with secret arts and education. How telling that these two phenomena, arts and education, are perceived as the most threatening things people could do!! And yet, this is what we Teaching Artists know, that arts and education are tools of immense power to instigate thinking, compassion, and action.
The dynamic and delightful blend of arts and education is the backbone of the Mobile Mini Children's Circus/Afghan Educational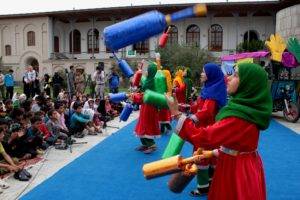 Children's Circus, and is what took me down those dirt roads this past October and – I hope! – will again in 2014.
Although I spent half my time volunteering with the Afghan Friends Network, each day also held time with the wonderful children at the Circus school. Some days I was with them as they went to perform, some days I was the teacher for the full morning, and some days I hung out with them in their math or science or English or Dari class before being their Teaching Artist for the following hour and a half to two hours.
It's hard for people in the US to really understand what girls 'taking up space' means, how important that is in and of itself, never mind the actual defiant act of girls studying anything outside of the Koran, which is still an issue (especially outside Kabul) despite official government support. Girls performing, having actions and a voice, being seen strong and bold in public and across Afghanistan deeply affects everyone—the viewers, the families of the performers, the boys in the Circus, the girls themselves.
There are so many street children here, and their situation is truly bleak. Many of the children at the circus would be walking that road without this incredible organization–which feeds them, by the way. Moreover, too often, street children and orphans do not have the opportunity nor modeling to develop social skills needed to thrive and become the agents of change they wish to be; the social skills needed to learn as a team and perform integrated juggling routines develops these skills. I was asked to help develop the girls' sense of 'theatricality'; what is character, how does one develop them, how/why would you include characters in a juggling routine… what is a scene… how does comedy and comic timing work… what are forms of local narrative, and how can we create work along those lines…entrances and exits… beginning/middle/end… physical theatre techniques, and so on.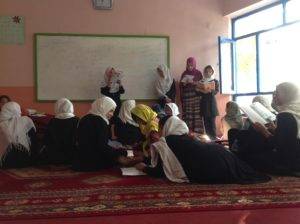 So there I am, only enough Dari to say hello, in a room full of children who typically all talk at once to each other throughout their academic classes (all learning and working, by the way), tasked with doing that listening-teaching thing in hopes of sparking their understand of and interest in various theatrical concepts. Daunting. Exciting. Chaotically beautiful. Each day I would come, not knowing if the schedule would bear any resemblance to what we had talked about the previous day, having a lesson plan of something fun, student-driven, and geared toward skill-discovery and exploration. I always came early so I could hang out with them in their other classes or as they prepared to perform, and participated in warm-ups, being extra goofy or rigorous or reflective as it felt right to do.
Some days I had some translation help from the "circus father" Hamid, sometimes my friend Eva of the Afghan Friends Network (who is not fluent but had waaaaay more Dari than I did) would help and participate, sometimes I and the girls struggled through with bits of Dari they taught me, bits of English they knew, and a great deal of gesture and pantomime. One day we played with masks and discovered characters, gestures, and walks, then let them create little scenelets (girl with mask video clip).  The next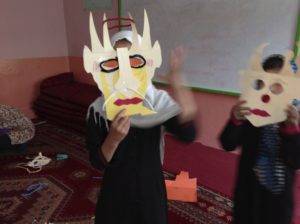 day we played with objects, creating scenes around them then using them to become other objects (including a hilarious one where a woman trying to smack a fly with a swatter pops another character's heart). Another day we built on the "this object is really something else" and grew scenelets with those, focusing on humor and poignancy. We found it was easier and more fun for them with the masks, and that the 'conceal/reveal' nature of the masks made entrance and exit buttons more apparent. 
Slowly, bit by bit, we negotiated what was important, what was fun, when it was time for a break, when we wanted to work beyond the normal parameters. They came to trust my intent and instinct and would reach more passionately across the divide of language as well as that of theatrical understanding. They worried less and played more. On our last two of my ten days, they created a new piece based on a favorite folktale, using each other as the trees and house, discovering largess and timing and so much more, and even though it was fairly raw, it was enchanting and Hamid planned on developing it to be included in the touring show, the first piece of its kind, the first story told. This video clip is from part of the story where the father has plucked the sacred fruit, is accosted by the ogre, and in fearful desperation, promises the ogre one of his daughters in marriage. For our final day, I wanted to plan an activity that was loose and individual as well as cooperative, so they made their own masks.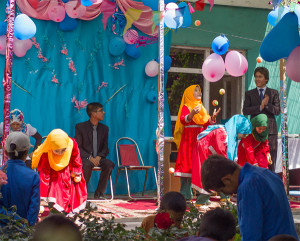 I was told I should extend my stay, which I logistically could not do, so instead we have made plans for my return, which includes grant hunting and Dari-learning. I can only believe that somehow the pieces will come together, and I will again be in a deliciously crazy situation with brilliant, brave girls who will be the first in many years to tell a story, be loud and large and take up space in front of everyone. In the grey-brown streets and hills of Kabul, my heart will be bright and full of joy and gratitude.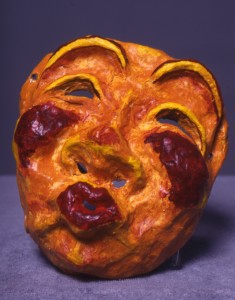 I am often asked to teach classes, mentor, or give advice regarding mask making practices. I have posted about mask-making with Aquaplast and manila folders, and now….Voila! A blog about making masks using paper mache!
Papier Mache: What is it?

In a nutshell, Papier mache is a process in which strips of newspaper (usually) are dipped in a mixture of either wallpaper paste and water or glue and water, then laid over a sculpted mold.
What are the pros and cons of using it?

Pros: It's very cheap! I prefer the glue/water mixture, which is not only inexpensive, but can be listed as an 'office supply' in some cases, instead of an 'art supply' if your budget is restricted. It's also easy to use, and, provided 1) the features of the sculpted mold are distinct enough and 2) the strips are narrow enough (so they retain the molds details), anyone can be successful.
Cons: Because multiple layers are needed for the mask to be strong enough to perform in, it can take a loooong time to make a mask, as each layer must be dry before another layer can be added. Moreover, each layer added reduces the sharpness of the features and lines. It is also a very porous material, so should not be used for masks that many people will use. Papier mache masks crumble over time, and can't take much abuse.
Tips!

Stage One: Sculpting the form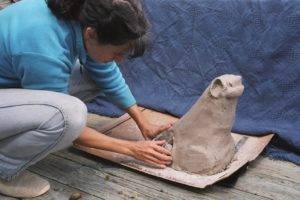 Getting Ready: 
The easiest sculpting materials are playdoh, sculpy or traditional clay. If you use traditional clay, get the stuff that the pottery class has to throw away. You'll need less of your sculpting material if you make a 'base' of newspaper and masking tape, a small bowl, or a half a styrofoam head (the kind used to display hats and wigs). If you use newspaper/tape or a bowl, you will need to remind your students to hold their face up to the mold to mark where the eyes, nose, and edges of the head need to be.
Sculpting: 
Remember that the features need to be large, defined, and extra specific. You will be applying several layers over them, and each one will 'smooth out the landscape', so to speak. Imagine laying several tablecloths overtop an elaborate centerpiece.
Stage Two: Laying on the papier mache

Choosing your materials: 
Newspaper is the most common choice. However, using industrial paper towels makes for a stronger layer.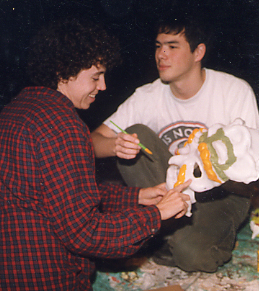 The towels also take the shape of the mold more easily and can be made to have more definition.
Layering: 
Rip your paper material into thin strips, dip into your glop (glue/water or wallpaper paste/water), run your fingers down the strip to remove the excess, and lay across sculpted form. Remember that a "layer" is not actually a single layer, it's more like 2. Ish. The "ish" comes in because it's important that the strips are not lined up–they need to be interlaced, and the interlacing pattern should not be repeated (there should be no 'pattern'). Take advantage of the layering to actually sculpt the paper strips–you want to create as much definition as possible.
Make sure the layer is dry before adding the next one!
Stage Three: Finishing up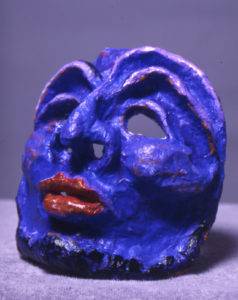 Inside: 
I like to do a final layer inside the mask of cloth dipped in the glop–it is strong, and smoother than paper on the face.
Outside: 
Gently sand the outside, then paint with a top coating of glop or a clear acrylic base. Now you're ready to paint!
Best of luck, and you can always contact me with questions!
I normally post on Friday or the weekend, but the 21st through today have been so full!
So many celebrations that begin in late fall and run into dead of winter are about finding (or becoming/bringing) light in the darkness, both literally and metaphorically. One of my favorite stories is Raven Brings the Light, of which there are many versions.
A beautiful version was performed for Northern Exposure, in an episode is called "Seoul Mates". (It weaves together a variety of winter solstice themes, and ends with a Raven pageant) You can find the pageant excerpt on Youtube here.
Below I have reprinted from Native Online a wonderful version,and here are links to three other versions; one Haida, one Tlingit, and one a play by Diana Knopp performed by Kerri Peters' second graders in Whitehorse, Yukon.  First Raven image by Billy Bedard, second by Paul Windsor.
May your heart be filled with light.
There was a time many years ago when the earth was covered in darkness. An inky pitch blanketed the world making it very difficult for anyone to hunt or fish or gather berries for food. An old man lived along the banks of a stream with his daughter who may have been very beautiful or possibly quite homely. This didn't matter to the old man however because after all it was dark and who could tell.

The reason why the world was dark had to do with the old man who had a box that contained a box that held many other boxes. In the very last box was all the light in the universe and this was a treasure he selfishly kept to himself.

The mischievous Raven existed at that time because he always had. He was none too happy about the state of the world for he blundered about in the dark bumping into everything. His interfering nature peaked one day when he stumbled by the old man's hut and overheard him muttering about his boxes. He instantly decided to steal the light but first had to find a way to get inside the hut.

Each day the young girl would go to the stream to fetch water so the Raven transformed himself into a tiny hemlock needle and floated into the girl's bucket. Working a bit of his "trickster" magic, he made the girl thirsty and as she took a drink he slipped down her throat. Once down in her warm insides he changed again; this time into a small human being and took a very long nap. The girl did not know what was happening to her and didn't tell her father.

One day the Raven emerged as a little boy child. If anyone could have seen him in the dark, they would have noticed that he was a peculiar looking child with a long beaklike nose, a few feathers here and there, and the unmistakably shining eyes of the Raven. Both father and daughter were delighted with their new addition and played with him for hours on end.

As the child explored his new surroundings he soon determined that the light must be kept in the big box in the corner. When he first tried to open the box, his grandfather scolded him profusely which in turn started a crying and squawking fit the likes of which the old man had never seen. As grandfathers have done since the beginning of time he caved in and gave the child the biggest box to play with. This brought peace to the hut for a brief time but it wasn't long until the child pulled his scam again, and again, and again until finally only one box remained.

After much coaxing and wailing the old man at last agreed to let the child play with the light for only a moment. As he tossed the ball of light the child transformed into the Raven and snatching the light in his beak, flew through the smoke hole and up into the sky. The world was instantly changed forever. Mountains sprang into the bright sky and reflections danced on the rivers and oceans. Far away, the Eagle was awakened and launched skyward – his target now clearly in sight.

Raven was so caught up in all the excitement of the newly revealed world that he nearly didn't see the Eagle bearing down on him. Swerving sharply to escape the outstretched talons, he dropped nearly half of the ball of light which fell to the earth. Shattering into one large and many small pieces on the rocky ground the bits of light bounced back up into the heavens where they remain to this day as the moon and the stars.

The Eagle pursued Raven beyond the rim of the world and exhausted by the long chase, Raven let go of what light still remained. Floating gracefully above the clouds, the sun as we now know it started up over the mountains to the east. The first rays of the morning sun brought light through the smoke hole of the old man's house. He was weeping in sorrow over his great loss and looking up, saw his daughter for the first time.

She was very beautiful and smiling, he began to feel a little better.