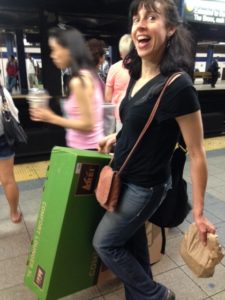 So, there you are, gearing up for another busy month, made busier by pending holidays. As usual, "work on website" and "go to networking event" and "get business cards" move to the bottom of the "to-do" list. They can, right? Face it–your schedule is full! PLUS your Great Aunt Hossenpfeffersushikins is coming for a week and has a restricted diet of things that are harder to find.
But then business trauma hits– a school loses its funding, a theatre has to cut back its budget, a community organization is cutting the department which contracted you, you were passed over for a gig you thought was in the bag.
How do you turn these moments into success?
First off, allot yourself no more than 10 minutes to spend on despair and the feeling of failure. I would say, "Skip this step", but as artists and community leaders, we have a powerful sense of responsibility for everything we do, and our sense of success is very tied to outcome. So go ahead, do what you need to do (whine, kvetch, curse, throw things) then cross it off the list (even if you have to add it to cross it off), and move on.
Secondly, remember that there is not enough time in any given day to both make lots of product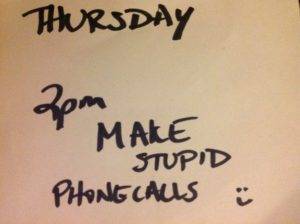 (teaching, writing, performing) and do lots of smart business promotion. So set aside days that are only for promotion. Or schedule a few half days. The key is to schedule it, and stick to it. I find that for phone meetings or necessary but heinous cold-calls, I need to schedule an exact time of day, and schedule exactly two calls. I have learned that I am more effective, more easy-going, and MUCH happier when I only do two of these at a time, and when I know each call has a specific time slot—that way I don't worry about forgetting to do any of them.
Next step: get two pieces of paper, label one "Dream Projects" and the other "Marketing Ideas and Opportunities". The first half-dozen or so things on each list (bounce back and forth as the spirit moves to help your ideas flow) will be the easy obvious ones. For me, the Dream Projects page included finishing my play "About Face", getting "About Face" performed, being in more films, and doing more book narration. Pretty vague. I pushed myself to write ideas to write two pages worth. This is a great writing strategy, because instead of stressing over what to write, you stress about covering the space, and your creative brain is set free (lots of studies support this kind of production strategy). Three years ago, this strategy birthed MysteryGrams and our At-Home Mystery Games. Distracted by holiday prep? Invent some project that is holiday related! Why not? It's on your mind anyway, might as well put it to good use.
Marketing!
Yeah, you have to do it. And I hate to say it, but this time of year is not only the most socially active in cyberspace, but also the most full of opportunities to meet people. Throw a party and let folks know they are also the beta test for the latest chapter of your novel, or that each person is asked to bring an idea for your classroom study about weather science. Make it fun, include lots of food and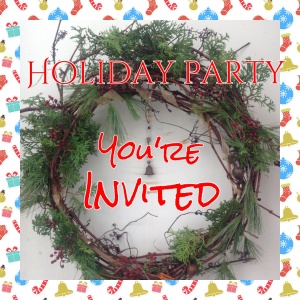 beverages, and you might get a gold concept nugget! Many businesses are holding a Year End Office or Organization Bash, which is all about chatting about work. It turns out that for most industries, more than 70% of landed job projects come from referrals. That makes person-to-person networking (or strong personalized cyber connecting) the most important part of your outreach campaign.

I want to close with a link to a seemingly non-relevant blog post. It's about teaching children the skills they need to be happy and successful, but it really applies to all of us in our work. Here's the original post: http://zenhabits.net/kid-skills/

Most important take-away? You have no time, and you need to do outreach or product development while simultaneously doing holiday activities. Finding creative ways that are FUN to combine those things (and mark off times to do the worst tasks while saving time for the most fun) will help decrease your stress, increase your time-efficiency, and help the new year begin with new ideas for your job.

Posted in: